Happy fall!! Here in Jersey it has been high 80's or 90 degrees. It sure doesn't feel like fall. I love the flavors of fall and the weather has not stopped me! Between the pumpkin RX bars, my homemade pumpkin bread, my pumpkin spice oatmeal (with egg whites), my hubbard squash soup, and my roasted fall veggies. I keep canned pumpkin in my pantry at all times, it can be easy to throw in pancakes, oatmeal, smoothies, soups, and anything you can think of. I also keep frozen veggies which is super easy to throw in the oven, microwave, or skillet for a quick fall dish.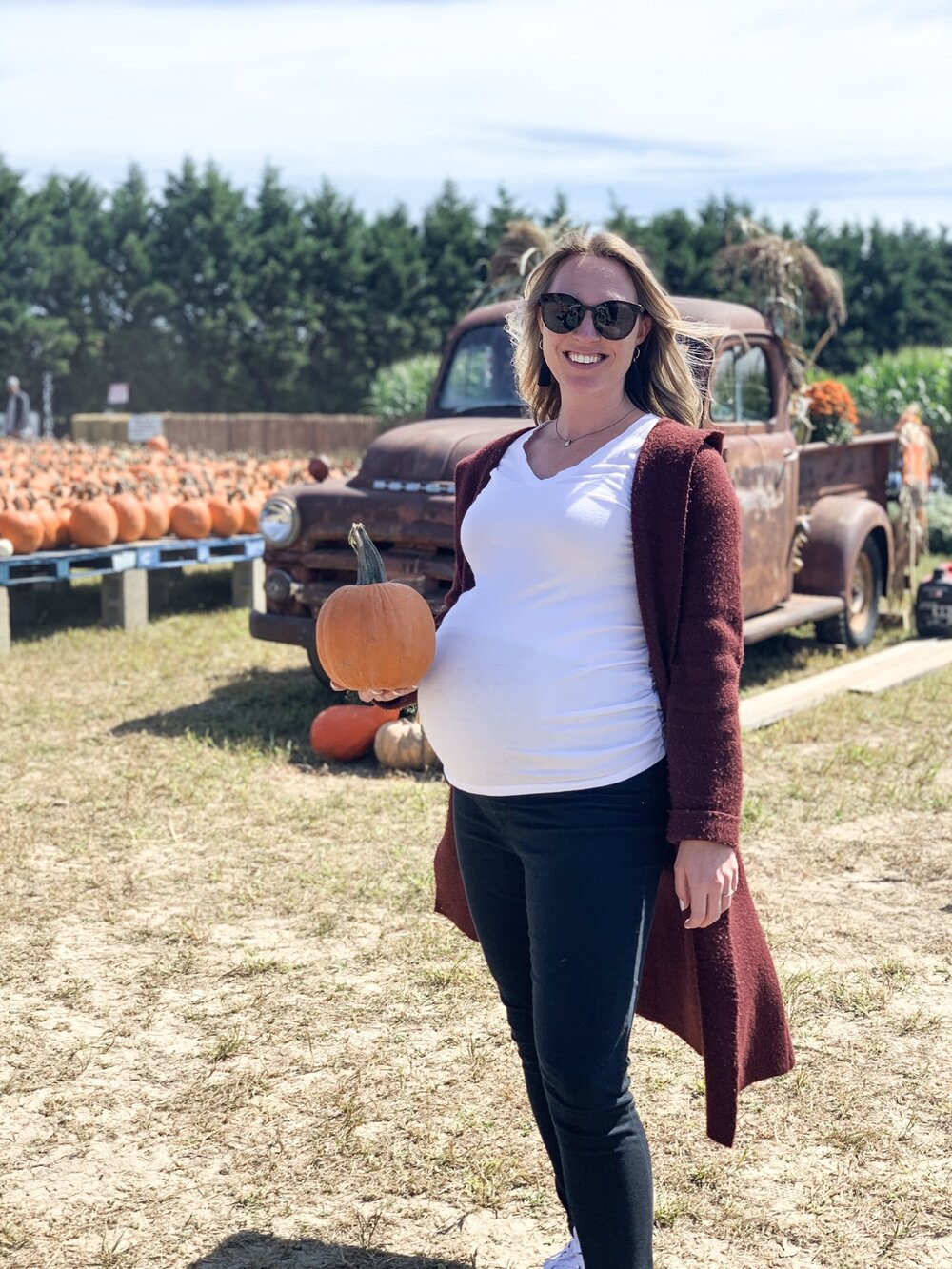 So I am one day past my due date. Pregnancy wise I have more pressure and braxton hicks but nothing extreme. So today I will do squats, go for a long walk, and go on a hayride at my family's farm. I am not sure if this is normal, but I felt so sick yesterday afternoon with a sore throat, headache, and body aches. By the end of the night, I just had the sore throat. I tried honey, salt and hot water, and tea which didn't do anything, so I went for the spray to numb my throat and I feel much better.
My one friend said she has heard people that get sick right before labor. I hope that is the case. I think it is also nasal drip because my nose is running like crazy this morning. To be honest, I am nervous for giving birth so maybe my immune system can feel that?
This taste of fall dish blends in kale, butternut squash, cranberries (can be dried but don't skip because the sweetness adds to the flavor), and then the edible acorn squash itself.
---
Quinoa Stuffed Acorn Squash
Course: Appetizers, Dinner
Ingredients
2 acorn squash

1/4 onion, chopped

2 garlic cloves, minced

1 cup butternut squash, chopped

1 cup kale, chopped

2 tbsp fresh or frozen cranberries, halved

3/4 cup quinoa, cooked

Olive Oil

1/2 tsp thyme

1/2 tsp parsley

1/2 tsp Umami seasoning (From TJ)- optional

S & P
Directions
Preheat oven to 350 °F. Drizzle olive oil on cast iron skillet or baking sheet.
Microwave acorn squash for 2 minutes (to make it easier to cut). Cut in half, remove seeds (save for later), sprinkle cut side with S&P, place cut side face down on skillet or pan.
Bake for 30 minutes.
On medium heat, drizzle olive oil in skillet. Cook onions for 2 minutes. Add butternut squash, garlic, kale, cranberries, and spices. Cook for 10 minutes on lower heat.
Mix quinoa with kale mixture.
Remove acorn squash from oven, flip, and fill with quinoa mixture.
Bake for another 30 minutes.
Serve and enjoy the fall taste (you can also eat the skin!)
---