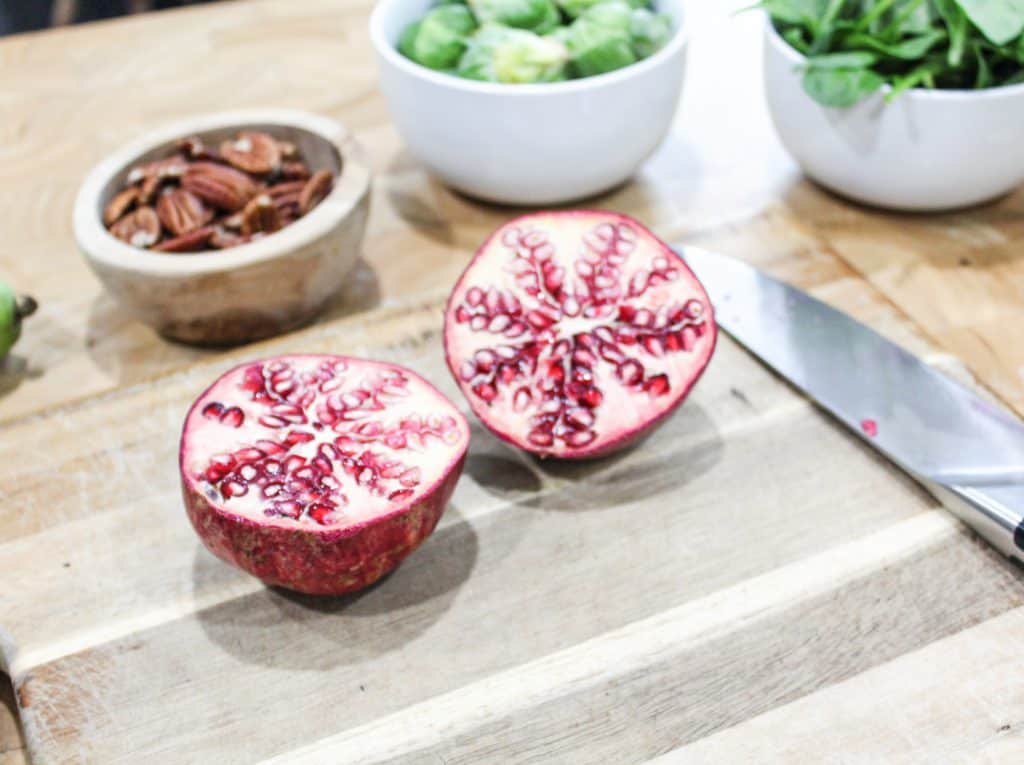 Pomegranates… the decorative fruit that should be opened and consumed more than used as decoration!
One of the oldest fruits as a symbol of life, luck, fertility!
This fruit is a new favorite the past couple years. Prior, I thought it was just for decoration. Not anymore! I am so glad I was introduced to these beautiful seeds, not so glad about some of the clothing it may have stained, but I found a new way to de-seed them without getting the juice all over (will describe later).
Where are they grown?
This vibrant red fruit is from West Asia in the Mediterranean region part of the world and now some in America. They grow best in sunlight-exposed mild winters and dry summers. Examples: California and Mexico.
It's parts:
When you open the skin, you will see tiny seeds, which are covered by red, juice arils.
Edible parts: the arils and seeds
Non-edible parts: the thick skin; the root and stems are actually poisonous!
Caution:
If you take certain medications that you are unable to consume grapefruit due to it's interactions with the medication (different dosage depending) like blood pressure meds, statins, blood thinners, some anti-anxiety drugs, corticosteroid for IBD, anti-epileptic, or certain anti-histamines, you want to talk with your doctor about the interaction with pomegranates and the appropriate amount.
Nutritional Benefits
Pomegranate's benefits are found to be antimicrobial, anti-inflammatory, antioxidant properties, and helpful in some disease.
Skin Health:
Skin is our biggest organ and a focus for many woman. Pomegranate's red color produces the flavonol anthocyanin, which acts as an antioxidant. Pomegranates are packed with a powerful antioxidant is Punicalagin, an ellagitannin, shown to have more antioxidants than green tea! Punicalagins metabolize into ellagic acid (a phenolic acid) to protect our skin from damage, such as wounds and UV exposure. One cup of pomegranate seeds provides 30% of your Vitamin C requirements for the day! Vitamin C acts as an antioxidant and is needed to form collagen that makes up your skin!
Heart Health:
The high antioxidant level of punicalagins help decrease inflammation, helping to reduce heart disease. Pomegranate's phytosterols and punicic acid are found to lower blood pressure and improve cholesterol levels. Punicic acid is a polyunsaturated fatty acid that has shown to improve triglycerides and HDL "good" cholesterol levels. One cup of pomegranate seeds provides 12% of your potassium needs for the day! Potassium is critical for muscle function, especially of the heart.
Cancer fighting:
Pomegranates have been studied in cancer cells to encourage apoptosis (cell death) and slow cell growth. The most studied cancer, with improvement, was prostate cancer when drinking pomegranate juice. They also believe this can be true for breast cancer, but more research is being done. The rich antioxidants help decrease oxidative stress, which will decrease inflammation levels. Chronic inflammation from a long exposure from: infections, allergens, radiation, toxic chemicals, autoimmune disease, chronic disease, obesity, alcohol, smoking increases the higher risk of cancer. Getting those antioxidants in are so important!
Bone Health:
Anthocyanin is shown to help reduce damage of cartilage and inflammation of joints, which helps prevent arthritis. Pomegranates showed increase in bone production from increasing osteoblast activity (responsible for new bone formation) and decreasing osteoclast (responsible for breaking down older bone). Osteoporosis is when bone loss begins and decreased levels of bone formation occurs, so you want osteoblast activity to be greater than osteoclast activity.
Improve Bacterial and Fungal infections
This benefit goes back to Egyptians using pomegranates for infections. Phytochemical compounds in pomegranates have shown to provide antimicrobial activity: ellagic acid and punicalagins. With the addition of anthocyanins and flavonols, bacterial (oral, gut, wounds, food preservation, infections) and viral (Herpes, HIV, food-borne) diseases can improve. Pomegranates provide prebiotic fiber, which is food for probiotics and provide healthy bowel movements. Pomegranates have also decreased dental plaque buildup, which decreases risk of oral diseases.
A few key research articles:
Food Applications and Potential Health Benefits of Pomegranate and its Derivatives
Potent Health Effects of Pomegranate
Pomegranate and Its Derivatives Can Improve Bone Health through Decreased Inflammation and Oxidative Stress in an Animal Model of PostMenopausal Osteoporosis
The Pomegranate: Effects on Bacteria and Viruses that Influence Human Health
How to eat them:
Cut the beautiful, round fruit in half. To remove the arils (seeds), I like to fold the skin back to push the seeds out. I highly recommend doing this process in a bowl of water. Other wise, you will have pomegranate juice everywhere (take it from experience!). Remove the white flesh to just get the seeds as themselves!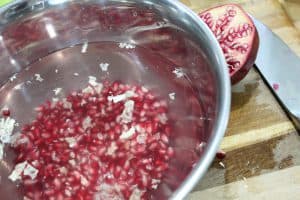 You can eat the seeds as is, juice them, or add to a dish to add a touch of color or flavor.
Here is a holiday favorite of mine: roasted fall veggies with pomegranate seeds. You make sure to cook the veggies first and add the pomegranate seeds after and before presenting.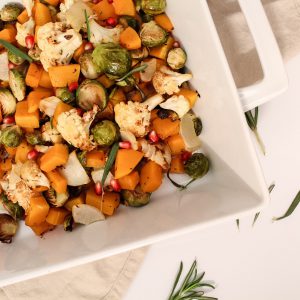 You can add touch of color to cheese or any type of board you create. I made an avocado toast board and a pancake board for a brunch. Pomegranate seeds can add that festive touch of color and burst of sweetness to any toast or pancake! For more holiday boards click here!
Add pomegranate seeds to a salad to give a pop of color, flavor burst, and give the green veggies the hint of red just in time for the holidays! See recipe below!
Winter Salad with Pomegranate Seeds, Brussels Sprouts, Pear, & Pecans
Course: Uncategorized
This salad gives you all the colors of Christmas with the green leafy veggies, shaved brussels sprouts, pear and then a touch of red from fresh pomegranate seeds.
Ingredients
3 cups baby spinach

2 cups brussel sprouts, shaved or sliced thinly

1 pear, thinly sliced

1/2 cup pomegranate arils (Seeds)

1/2 cup pecans, raw unsalted

Salad dressing

1/4 cup olive oil

1/4 cup white wine vinegar

1 tsp Dijon Mustard

1 tsp honey

S&P
Directions
Add salad greens in large serving bowl.
Add remaining ingredients on top. Mix together before serving.
Mix together all salad dressing ingredients.
Enjoy the raw veggies with the light dressing!
I would love to work with you to Ditch the Diet in 2021. Gain a healthy relationship with food, work one-on-one with me monthly, be in a supportive of like-minded women, get daily tips, accountability all for 3 months! From January 1 to March 31, you can be a part of a game changer for you!
I want you to start feeling your best around food, nutrition, healthy habits, energy levels, sleep, and mental thoughts. When quarantine ends, do you want to look and feel better than you did coming into quarantine? This is the group for you!
Ditch the Diet 3 month accountability group is for you!