Trying to find a title for a health group is actually tough. I called my first group July Accountability Group. I wanted a name that defined what the group was really about. On October 1, I will be starting my second group called: Building Healthy Habits.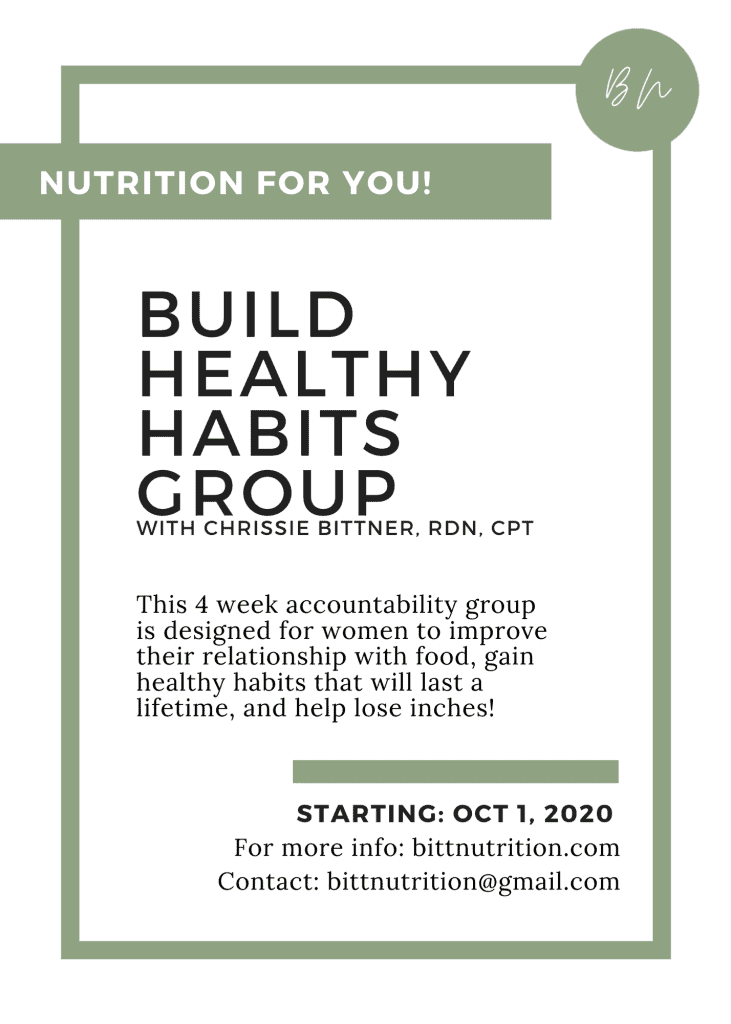 What are the dates?
October 1- October 30 (the Facebook group will be up until the end of November for you to go back to)
Why Building Healthy Habits?
A habit can take months to be built in your subconscious mind. Do you remember when brushing your teeth or putting a seat belt on was a thing you think about? Or maybe you are like me and start to drive to work, to only realize it is your day off and you are going somewhere else. It is because you have built these things in your mind and you don't have to think about them.
We all have A LOT going on in our minds these days with our normal routine changing, back to school, working from home, and so on. Now is a perfect time to start forming healthy habits so when things go back to so-called 'normal', these healthy habits are already installed.
Many of my clients have tried different diets, to only come back to me with no clue how to make it a lifestyle. Diets don't help you after, actually after the diet they go back to their old habits… so back to square one.
I want you to save your time and start building those lifelong healthy habits now. Stop wasting your time (and money) on the next fad diet. I can't emphasize this enough (I have seen way too much money and time wasted on the next new fad diet)!
How will I help you build those habits?
My course is 1 month of daily nutrition or fitness education, eventually I will create a longer course to really dig deep. Four weeks is still a good time to get started on habits. This course will provide ways to get your mind in the right place, start becoming consistent with workouts, learn new tools to continue for life, and just learn how to create a balance between nutrition and life.
Once you sign up, I will invite you to a private Facebook group. Group coaching is amazing to me, because there is a community and you are not in it alone. Everyone can help each other out and provide ideas.
During the 4 weeks, everyday I will be providing a nutrition topic, workout, recipe, or cooking technique. Each week I will check in with you individually to see how you are doing on your goals you created in the beginning.
During the 4 weeks, if you have any questions, you can reach out to me to ask (a $150 session without being in the group!).
You will have access to the information and videos for 1 month after the group ends.
Here is what the weeks will look like: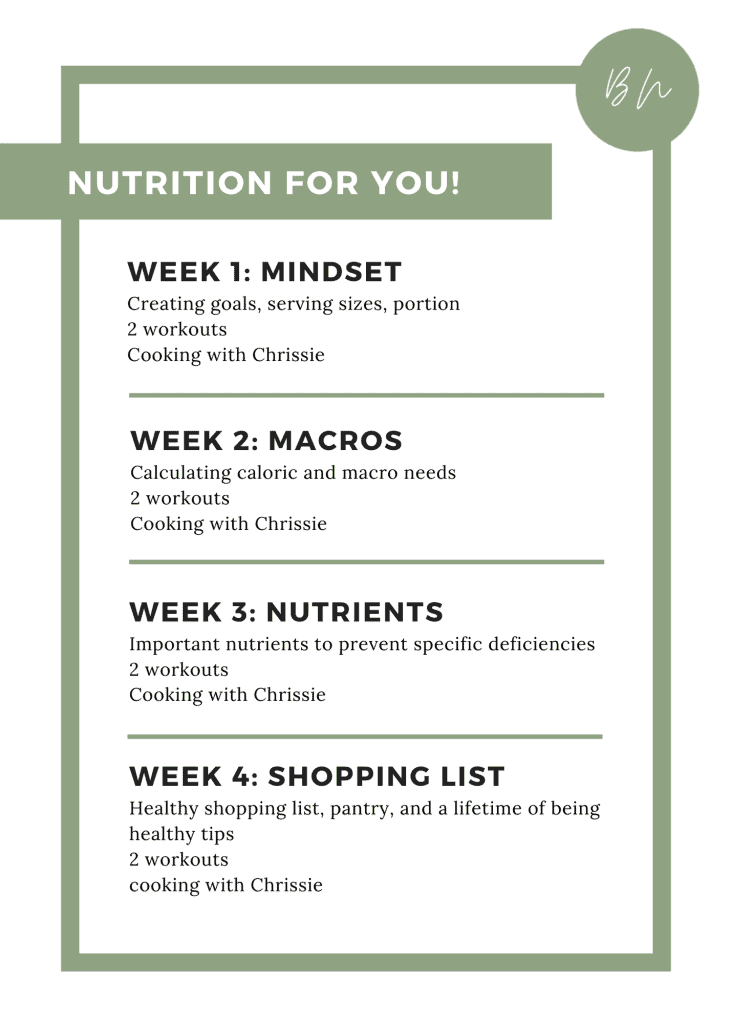 Who is this group for?
I am only taking a max of 20 people– WOMEN only group. I want an environment for women to feel comfortable to open up. A lot of my information is directed to women's needs.
It is for the woman that:
Want to be at a healthy weight, that is sustainable
Want to have a better relationship with food
Want to escape the diet and build the healthy lifestyle
Want to eat their favorite foods without restrictions
Want to become consistent with exercise
Want to learn how to have a balance meal
Want to learn healthy cooking techniques
Want a community of women with similar health goals
If you want a specific topic for a future group, feel free to leave me a message below:
Think about what is holding you back from investing in your health.
If you don't invest in your health now, you will have no decision to pay for your illness.
This is the lowest price for this group, that it will ever be
The pre-sale price ends Sept 14, then the price goes up to $200.