The crisp fall air has returned to our South Jersey town. The pumpkin spice and apple season started Sept 1. What many people don't realize, is that apple season begins at the end of August. Usually at the end of August, we still have summer on our mind: peaches, corn, squash, tomatoes, and all our favorite Jersey Fresh summer produce. People aren't thinking of apple season.
According to my dad, whom is the farmer at our family farm Duffield's farm, he notes that purchases for peaches and Jersey sweet corn decline once September hits. Peaches are good for a few weeks after and Jersey sweet corn is good until the first frost.
Just like how school gets on our mind when September hits, so does pumpkin spice and apples (maybe that is why apples are associated with teachers? or maybe because they are supposed to be healthy? –not sure).
Since Covid hit, the farm had to change some ways we do business. Years in the past, people could get tickets to ride the hayride to pick apples that day. Now, you have to purchase tickets ahead of time to keep the crowds organized and a specific number of people on the wagons.
Today, the hayrides were sold out! It was also our Fall Food Truck Festival and the weather was beautiful with a crisp breeze, so why not want to go on a hayride to pick apples?
It is about the experience! Step up onto the hay-filled wagon, sit closer to the tractor because that spot is cool to watch the tractor and is less bumpy. Then you sit down, which may be a bit uncomfortable to sit on the loose hay. To make it more comfortable: take the hay from under your feet and throw it under your booty. It makes a nice cushion to sit on, especially while the wagon bumps all over the farm.
As the driver starts the wagon, everyone gets excited to be a passenger without having to wear seat belts. The tractor drives you through picture-perfect views on a bumpy dirt road, wind breezing through your hair and probably about to take your mask off, and clouds of dust coming under the tires (probably a little on you). It is a time to thank the Lord for the Earth he created and for the hard working farmers who take care of the land.
When you remember that your seat isn't the most comfortable, you finally arrive at the apple orchard. Kids run off the wagon to go be a farmer for a day. You finally get off and now you have to try to find the kids out in the orchard, which may be a bit difficult. You finally find them and they have picked every apple in reach and have one in their mouth. Eating an apple, while picking, is a part of the experience! Thankfully, you get your perfect Instagram pic!
You get back on the wagon for a short trip down the hill back to the market, where you started. Now you have a big bag filled of nature's candy to take home. Apples are high in fiber (especially the skin to keep you full longer and good for your GI system), antioxidant and anti-inflammation properties from quercetin, and high in vitamin C (decreases if cooked). No wonder an apple a day keeps the doctor away!
Click here for a more apple facts!
So, you get home and think, "What the heck are we going to do with a ton of apples?". Can we really eat all these apples?
You start to think of some things to make like the obvious ones: applesauce, apple pie, or apple and peanut butter…which I love all of these! But, what else can we make and still be healthy?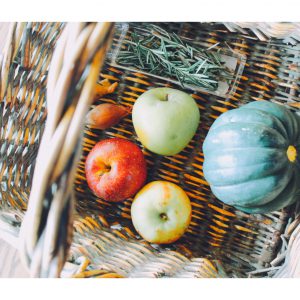 Here are 5 different healthy ways to use up the apples before they go bad:
1. Chopped in a salad

Greens of choice: arugula and spinach (pictured); kale would be a great addition
Cheeses that go well: goat, blue
Protein: roasted cinnamon honey chick peas and goat cheese (pictured); grilled chicken, tuna, or salmon would be great choices
Crunch: roasted cinnamon honey chick peas (pictured); dehydrated apples (See below), seeds and nuts would be a great addition
Dressing: homemade apple cider vinegar dressing (pictured); poppyseed dressing would taste well with this

Apple Cider Vinegar Dressing recipe (for 2-3 salads): 4 tbsp olive oil, 2.5 tbsp apple cider vinegar, 2 tsp honey, 1 tsp dijion mustard, 1 garlic clove minced, dash of S&P
2. Apple Nachos

A perfect snack to involve the kids
Top with anything from natural peanut butter, chocolate, unsweetened coconut (pictured) to caramel drizzle!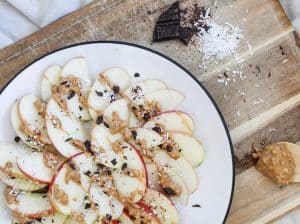 3. Dehydrated Apples

Whether you have a dehydrator or bake in the oven at the lowest heat for 2-3 hours
You can keep these in an air tight container to have you apples stay longer.
4. Apple Crisp

Like an apple pie but easier and a delicious crumb topping
5. Paired with Meats

The sweetness of the apples with the savory meat provide a good balance.
Meat options: Beef, pork, chicken, salmon, sausage
Cook with apples with it in a slow cooker, baked, or sauteed.
Cook apples in a sauce and add on top of the meat.
Chop apples in a salsa or stuffing or in a chicken salad
See recipe below for a one pan dish pairing apples with pork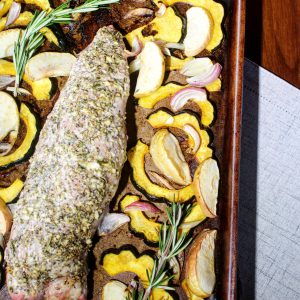 ---
Garlic & Herb Pork with Acorn Squash & Apples One Pan Meal
Easy, healthy, flavorful fall meal on a crisp fall night.
Ingredients
1 pork loin  

1 medium apple (I used honey crisp)

1 acorn squash, sliced (may need to place in microwave to make it easier to slice; keep the seeds)

3 shallots, sliced

3 garlic cloves, minced

1 tsp basil

1 tsp thyme

1 tsp rosemary (I used fresh but dry is fine as well)

1 tsp salt

1 tsp pepper

1 tsp apple cider vinegar

3 tsp olive oil
Directions
Preheat oven to 400 degrees F.
Lightly spray oil on sheet pan. Lay pork loin in the middle. Lay apple, acorn squash, and shallot slices around thee pork.
Drizzle with olive oil and sprinkle with salt and pepper.
Mix garlic cloves, basil, thyme, rosemary, 1/2 tsp salt, 1/2 tsp pepper, 2 tsp olive oil, and apple cider vinegar together. Rub it on pork.
Roast in the oven for 40-45 minutes until internal temperature is 145 degrees. When done, let it sit for 10 minutes before serving.
While everything is roasting, clean and pat dry the acorn squash seeds. In a foil pack, add seeds, drizzle olive oil, and sprinkle S&P. Roast for 10 minutes, until they become crunchy. Eat as an appetizer or add to the dish for an extra crunch.
Enjoy!
What is your favorite thing to do with apples?