About Me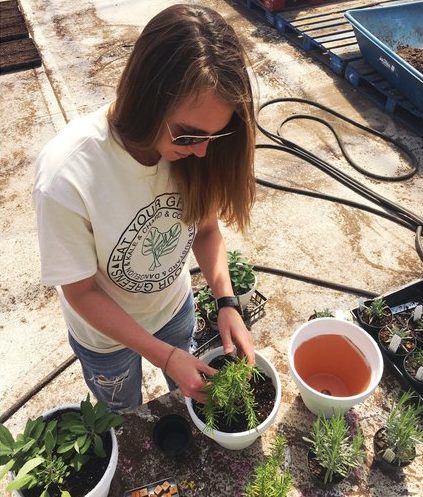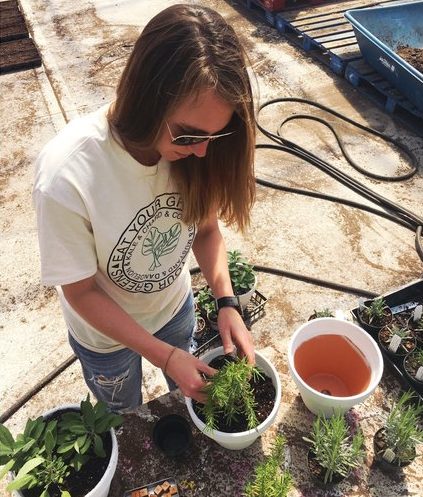 Hiii! I am Chrissie Duffield-Bittner — a registered dietitian, integrative nutrition health coach through IIN, personal trainer, farmer's daughter and excited to have you visit my blog! I am sure you want to find out what I am all about. Whomever you are, I hope you feel right at home here and can learn a BITT of nutrition from me.
The BITT part of my blog is based off my new last name BITTner, Andy and I got married April 22, 2017, Earth Day, on my family's farm. Located on our wedding site is a small (400 sq ft) cabin that my dad built. It is also where my husband proposed to me, where we got married, and where we lived (#tinyhomeliving) for 9 months. Everything about my wedding was personalized, like these Earth Day centerpieces I painted, planted, and organized based on the table name. Each table was named a certain herb or flower. We now have a little boy, Bryce!
A take away from my wedding blurb above, is that I am very passionate, detail orientated, and type A personality (thanks dad!). Type A personality has some downfalls, like having to be a perfectionist, which I am working on DAILY! A benefit of type A is having a strong passion for something you care about. For me that is health and wellness —mind, body, and spirit. Which is why I am a registered dietitian, personal trainer, and integrative nutrition health coach.
This blog is meant to provide healthy tips and recipes that can inspire anyone to gain a healthier lifestyle. Through this blog, I would love to incorporate meet-ups where other like-minded people can gather, eat healthy food or do an activity together. Let's get to know each other! Feel free to reach out to me via comments, social media, or email. I love getting feedback, hearing from my followers, listening to your stories, and getting to know all of you!
Here are some random facts about me:
The Lord is number one and I believe he put me here for a reason.
Family is everything: I have a toddler boy and baby girl!
Exercising and walks, listening to podcasts, are a way to clear my head. I ran my first marathon on Nov. 18, 2018 in the Philadelphia Marathon and have completed a few half marathons and tough mudders.
My favorite foods that I eat almost daily: Peanut butter — by the spoonful or with toast and banana are my favs, sweet potatoes, salmon, eggs with avocado toast and EBTB seasoning, dark chocolate, a nice hardy salad, and oatmeal with little maple syrup
I grew up on farm, so many of my recipes will be with Jersey Fresh produce (when in season) — come visit the farm: Duffield's Farm
Minimalist — less is more to me, I hate clutter.
White, dark green, and copper are my favorite colors, was my wedding theme, and is the theme through my house
My first blog was called misssweetpotatohead, because I can eat a sweet potato everyday.
I became a dietitian and personal trainer because I have gone through my own health journey and now want to use my experience and education to help others achieve their health goals.
I am from a big town and now live in a small town, which I love being able to walk downtown to get some ice cream or a matcha!
Chrissie Duffield-Bittner
Registered dietitian, integrative nutrition health coach, personal trainer
Welcome to BITT nutrition. I am a farmer's daughter, registered dietitian, IIN health coach, and personal trainer looking at the body as a whole so we can have the best quality of life possible, while feeling the best!