Hey all! Just an update on baby B! I am now a week late (but found out my midwife had an earlier due date), 1cm dilated, 60% effaced, and scheduled for induction on Thursday. I am hoping baby B comes out on his time! My husband and I are so thankful for everyone reaching out and the prayers (please continue them!). It is now fall here and today is the only day that actually feels like it. They said it is supposed to be 90 degrees on Wednesday. I love the hot weather, but I am actually sick of wearing the same summer pregnancy outfits over and over again. I LOVE big sweaters and I am so excited to wear them again.
Many people think apple season isn't until fall, but in reality it started in August, here in New Jersey. My favorites are jona gold and golden delicious. They are both so super crisp, little tart, but still sweet. When I make any dish with apples, I try to have a variety so you have tart and sweet mixed together. For this healthier apple crisp I used gala and jona gold.
My cousin gave my two containers of steel cut oats. Honestly I don't remember the last time I had them. So I have been trying to figure out what to do with them (because I don't like a lot of stuff in my pantry). I also have been wanting apple crisp. Instead of doing another breakfast, like my overnight pumpkin oats (to come), I decided to make a dessert: apple crisp. I mean you can eat this as breakfast too, whichever you prefer. I mean I had it for dinner tonight because I had to taste test it.
I usually don't use butter, but I used a bit for this. I am sure you can use coconut oil for this as well. I also don't use a lot of added sugar. For this I used 2 tbsp of maple syrup with the apples and a little over 1/4 cup brown sugar for the topping. You can choose whatever sweetener you want!
---
Apple Crisp (with steel cut oats)
Course: Breakfast, Dessert
Ingredients
4 apples, core removed, sliced thin
(I used a variety: jona gold & gala)

1 tbsp lemon juice

2 tbsp corn starch

1 tbsp + 1/2 tsp cinnamon

2 tbsp maple syrup

1 cup steel cut oats, uncooked

4 cups water

1/4 cup + 2 tbsp brown sugar

2 tbsp butter

1 tbsp wheat germ (optional)

1/2 cup old fashion oats

2 tbsp flour (any kind)

1/4 tsp vanilla extract
Directions
Cook steel cut oats per package directions (takes 30 minutes or more).
Preheat oven to 350 °F. Grease a baking pan (3 qt).
In a large bowl, add sliced apples, lemon juice, 1 tbsp cinnamon, corn starch, and maple syrup. Mix together. Add to greased pan.
Once steel cut oats are cooked, add 1/4 cup brown sugar, 1/2 tsp cinnamon, wheat germ, and 1 tbsp butter and mix together.
Add steel cut oats over apples. Bake for 30 minutes.
In the mean time, mix old fashion oats, flour, 1 tbsp butter, 2 tbsp brown sugar, and vanilla extract.
Add dry mixture to apples and steel cut oats. Bake for another 20 minutes.
Enjoy!
---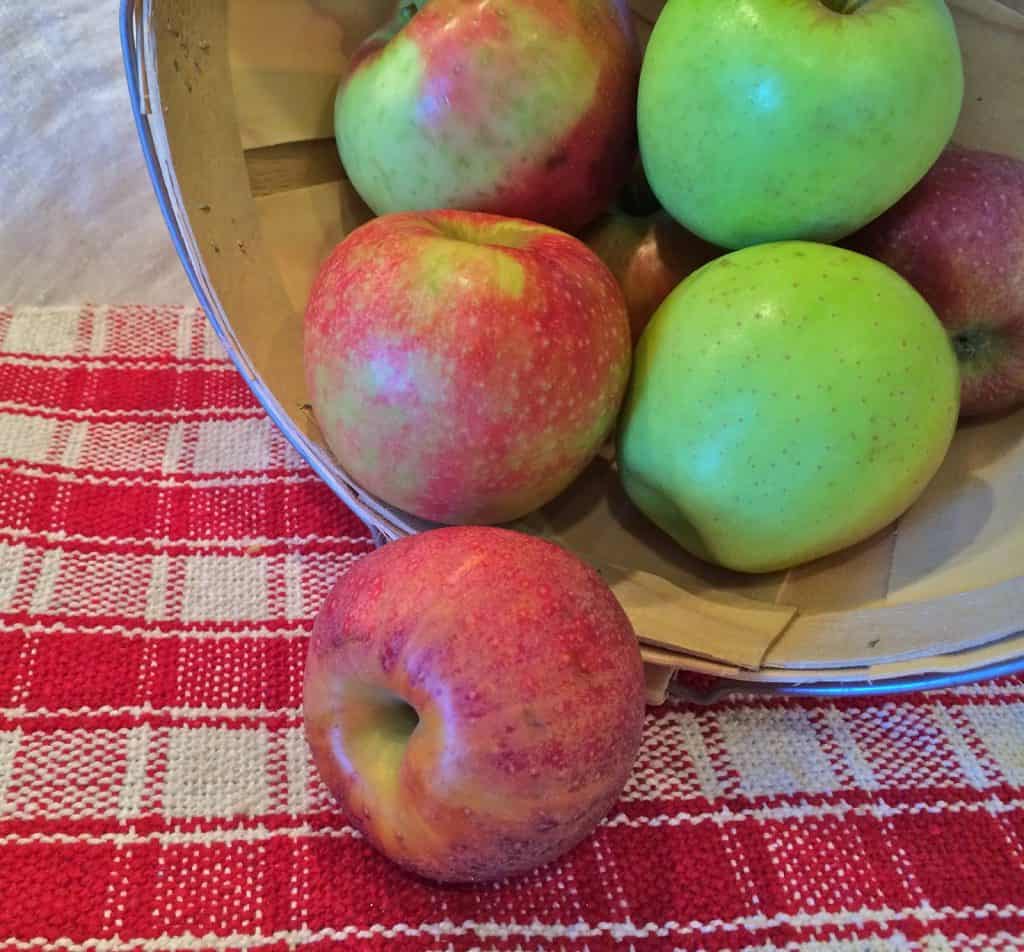 Apple Fun Facts
1 medium apple= 80 calories, 25g carbs, 18g sugar
Good source of fiber (4g) for digestion and keeping you full longer
Vitamin C to help antioxidant function, boost immune function, and iron absorption.
B Vitamins for metabolism, energy, fights disease, and fights infection
Top Source of quercetin: for immune and brain health
Helps keep teeth white and good for your breath!
For baking use: Rome, Granny Smith, McIntosh, Braeburn
Fresh eating: Gala, Golden Delicious, Fuji, Cameo
In a pie: Rome, Jonagold, Jazz, Honey Crisp
For sauce: Granny Smith, Jonathan, Golden Delicious, SweeTango

When baking, making applesauce, or in a pie I still think a mixture of different apples is the best!

Apple season: End of July to End of November
Keep apples fresh by storing in the fridge
Be careful to store apples separate from other fruits and vegetables because it can ripen other produce quicker than you would like.
Bake them, add to meat dishes, eat right from the farm, make applesauce, add to oatmeal, dip in peanut butter, and many more ways to enjoy apples!