It has been a few weeks since I have posted on here. Our little man came a week and a few days post his due date on Oct 2 at 1:15 pm. Bryce was 7lb 15oz and 21 inch. Giving birth was no joke and the toughest thing I have ever done. My water broke at 3 am and I had intense back labor. Fortunately I had 3 awesome people that massaged my lower back at each contraction: my husband, mom, and midwife. Since I didn't have any meds I was able to walk, sit on the ball, sit in the bath tub, and push while on all fours (instead of just laying in bed). As much as I didn't believe people, you really do forget about the pain a few days after. Looking at him, it was all worth it!
I have been soaking in this newborn stage and being a mommy as much as I can. I honestly haven't had time to do much on the blog and my husband has been going back to work. We are so thankful for friends and family that made us delicious meals. We have had a range of meals including: black bean enchiladas, Greek chicken kabobs with orzo salad, quinoa caprese casserole, vegetarian stuffed peppers, chicken cacciatore, butternut squash soup, meals from our favorite eateries, and brownies! It has been nice to not have to cook. The one night my husband went back to work and I made a quick chicken tortilla soup in the pressure cooker. Bryce was screaming for me to hold him the whole time, so I had to make it quick. I give single moms so much credit, taking care of a baby is difficult but with my husband's help it makes it doable. I would go absolutely crazy doing this alone.
I also wanted to make it to one day of FNCE in Philly this year. Unfortunately I don't feel comfortable leaving baby B for that long of a day at 3.5 weeks old. I started pumping just in case I was going. Pumping is not the issue, I just don't think I can be away from him for 8-9 hours at this time. It is nice to have extra milk so other people can feed him. Breastfeeding with a cover has not been successful for me, so I try to feed before anyone visits him or before an event. Now other people can feed him and it is less stressful for me to organize my day around feedings. Well to be honest, we don't have any schedule. When do you really get a schedule? Our days have been all over the place lately with a ton of plans we had prior to Bryce coming into this world. So we just bring him along so he can enjoy the parties like we do!
Bryce is now 3.5 weeks old has been a busy baby! When he was 1 week old we went for our check up and he gained more weight from 7lb 15 oz to 8lb 5 oz! He is surely eating well. We then went and visited everyone at the farm market. During this week we drove to Brick Township to visit my grandmom who had a stroke the day after Bryce was born (it has been a range of emotions this month). Bryce was babysat by my aunt because who wants to take a 1 week old into a germ filled hospital? We didn't think grandmom would make it through the week. But she is doing well now, eating on a honey thickened diet (d/t swallowing difficulty), walking with a walker, singing Christian songs, speaking some Spanish (She never spoke it before lol), but just struggles with fully communicating. Hopefully with rehab she will improve. Prayers needed!!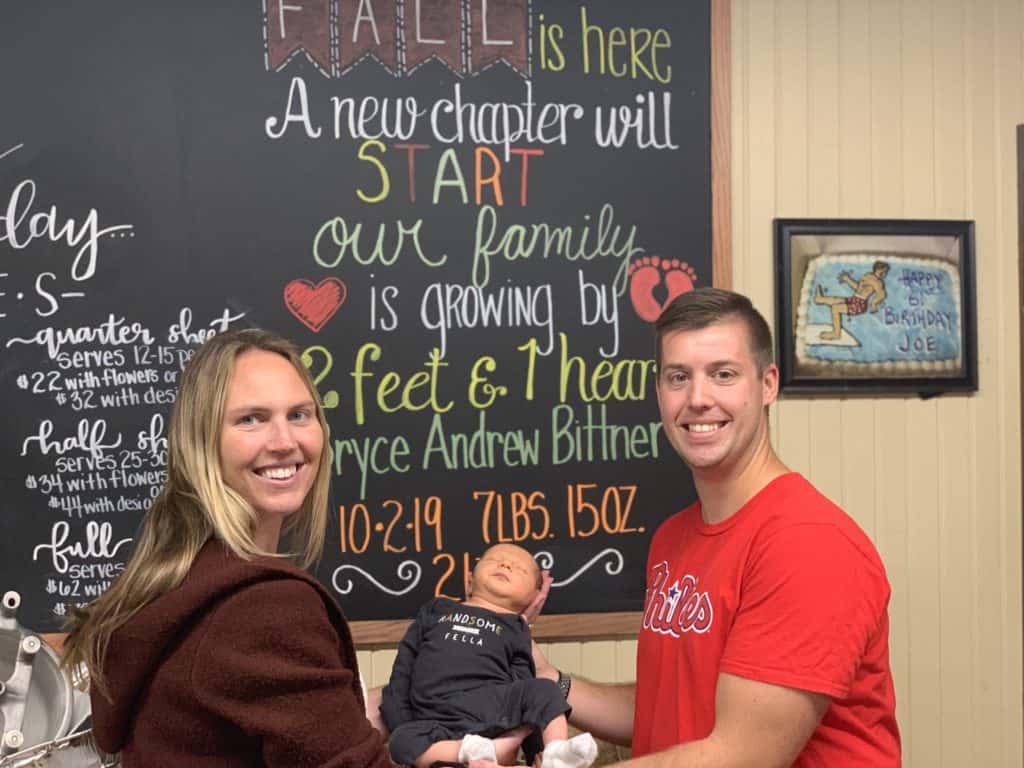 When Bryce was 10 days old, we went to our first wedding shower. Thankfully nanny was there and wanted to hold him. I was able to eat, drink my first mimosa in months, and enjoy my time. Ten minutes before we left, he had an explosive poop..so that was fun..not! It was quiet in the room and you could hear his explosion from across the room!!
At 2 weeks, we went back up to Brick and he got to see most of my family from Tennessee and Florida. They were visiting grandmom. It was bittersweet to see them, but Bryce was surely loved by all! He got a ton of love that day. We came home and took his first full bath! This week we also went on our first hayride at my family's farm to see the pumpkins. Grandpop was able to pause work to get a picture!
At 2.5 weeks we went to a baby shower (for Bryce's future BFF Grant) and he slept in the car seat the whole two and half hours! I was nervous as this was at a country club and I didn't have family there. I did have friends that said they could help if needed, but he was such a good boy! I enjoyed another mimosa and could get used to Saturday mimosas haha. We came home, ate, changed, then went to his first brewery: Bonesaw. We celebrated my friend Elise and Colin's engagement! Again he was such a good sport.
The next day we celebrated our friend Charlotte's first birthday. Thankfully my husband and my mom were there to help me. Well really my mom held him most of the time until another party blow out! So glad the party was at my friend's house with a nursery! Bryce decided to pee on her changing table when we took off his diaper. And this blow out was so extreme that I ran out of wipes so had to use some of Charlotte's. This best part of this nursery was the rocking chair where I feed Bryce. It was the most comfortable rocking chair! (Thanks Diana!)
This weekend, at 3.5 weeks, we took our family photos, went up town for lunch and coffee, and my husband had to work at night. Today we hung out at the farm market since I miss my Saturdays doing parties there and being around family. Tomorrow we have my cousin's baby's baptism then lunch at the farm to celebrate. It will be the first time Bryce visits my church I grew up in!
As you can tell, I find it hard to sit still. My doctor told me I need to be still and do nothing for 5 days so I can finally heal. I have tried my best to just do nothing and cuddle with Bryce. It is just hard when we have things planned and it is beautiful out so I just want to be outside! I have decided to rest and do my first blog post since having baby Bryce. Enjoy this harvest salad!
---
Fall Harvest Salad with Apple Chips
Course: About me, Dinner
Ingredients
Apple Chips (see below for directions)

2 cups spring mix

1 tbsp walnuts (I used cinnamon sugar coated ones)

1 tbsp dried cranberries

1 tbsp feta cheese

optional: protein: beans, grilled chicken, etc.

2 tbsp apple cider vinaigrette dressing (see below for recipe)

Apple Cider Vinaigrette

1/2 cup apple cider

1/4 cup apple cider vinegar

1/2 tsp dijion mustard (I used whole grain dijion, but plain is fine as well)

2 tsp maple syrup

1/2 cup olive oil

pinch of cinnamon
Directions
Mix all ingredients together.
Enjoy!
Apple Chips (optional)
Preheat oven to 200 degrees.
Slice apples in a mandolin or with a knife (mine were too big for the mandolin).
Slice as thin as you can so they don't become soggy when baking.
On a baking sheet with wax paper, place one layer of apple slices.
Sprinkle with cinnamon or cinnamon and sugar.
Bake for 3 hours.
---