In less than a week is my due date (Mon Sept 23!). Apparently my belly dropped, I thought I would feel something, but I guess not. Lately, I have been wanting carbs more than veggies and fruit, which happened to me in my first trimester. Not sure if this is just like carb loading for my marathon, since giving birth is a huge event on your body. For a few weeks I have been wanting pumpkin bread. I do get it at my family's farm market and bakery. But I wanted a healthier version. So I used whole wheat flour and only 1/2 cup maple syrup in the recipe before. It hit the spot! I may freeze a few slices when Baby B gets here and I am in need of a quick snack.
I went to Trader Joe's today to stock up on some stuff. The closest one to me is in Marlton, which is awful with traffic and the craziness at TJ itself. Except today. I went at 10/11 am and it was a beautiful thing! I even got a picture of my cart! Unfortunately my go-to quick meal is throwing their hi-protein veggie burgers onto a salad and I was hoping to stock up the freezer…but they were all out until the end of the month :(.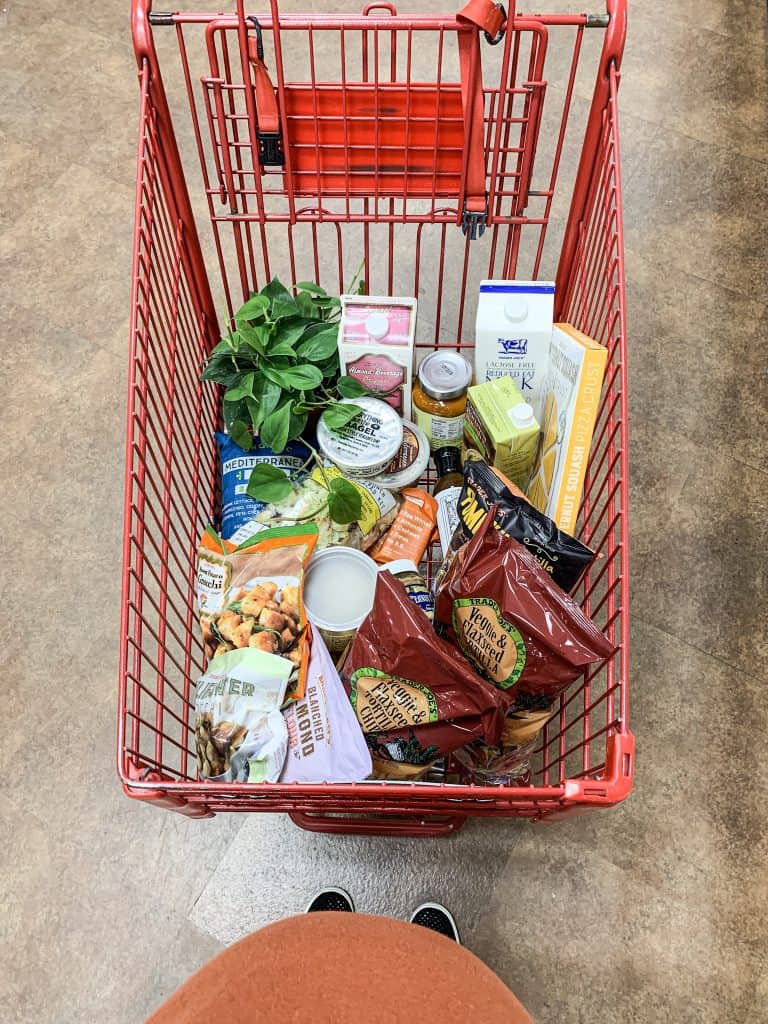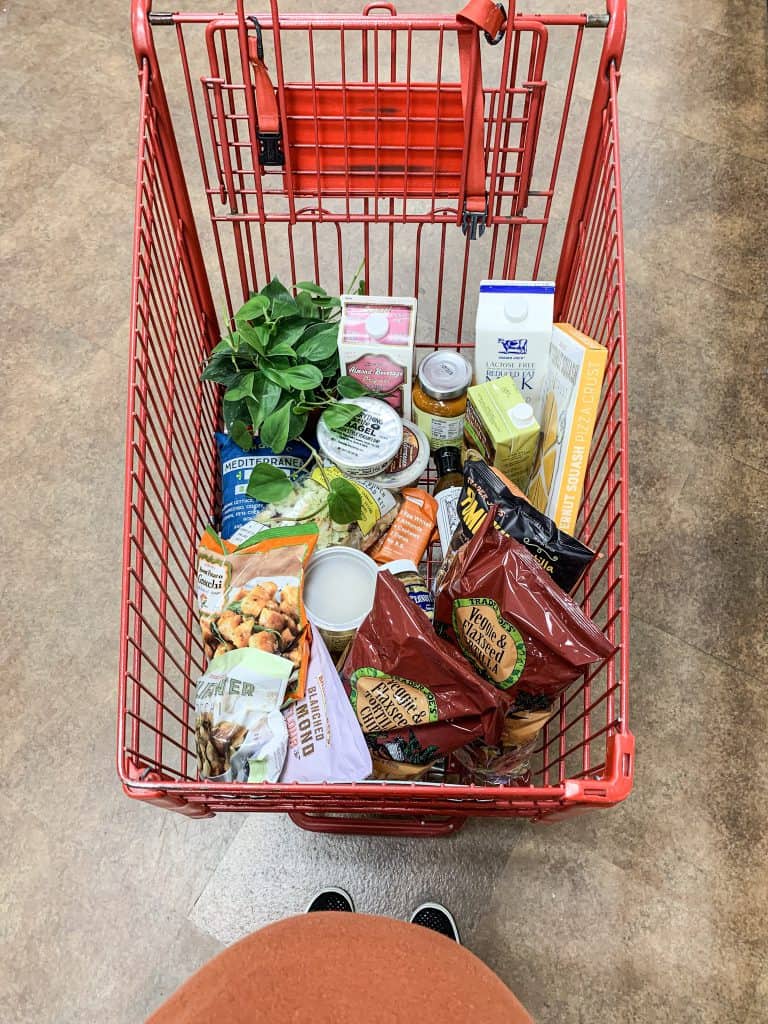 20 of my go-to Trader Joe items
tortilla chips (my whole family loves them)
pumpkin tortilla chips (b/c fall)
almond flour
cauliflower gnocchi
sweet potato gnocchi with cream sauce (quick side for a dinner)
oats
chunky natural PB (always in this house)
RX pumpkin bars
salad bags
Salad dressing (Not pictured their refrigerated salad dressings)
butternut squash or cauliflower pizza crust
butternut squash soup
fall harvest soup
everything but the bagel seasoning
everything but the bagel Greek yogurt dip (my dad loved this!)
Mediterranean hummus (my fav)
Vegan Pesto
unsweetened almond milk (for me)
lactose free milk (for my hubby)
plant for Baby B's room
---
Pumpkin Bread
Course: Breakfast, Dessert, Snack
Ingredients
1/3 cup melted coconut oil

1/2 cup maple syrup

2 eggs

1 1/4 cup pumpkin puree (not pumpkin pie filling)

1/4 cup milk

1 1/2 tsp pumpkin pie spice

1/4 tsp cinnamon

sprinkle of salt

1 tsp baking soda

1 tsp vanilla extract

1 3/4 cup whole wheat flour

Additions if you want: walnuts, chocolate chips, raisins, dried cranberries, pecans, etc.
Directions
Preheat oven to 325 °F. Place a piece of parchment paper in 9×5 inch loaf pan and spray with oil.
In a large bowl, whisk oil and maple syrup. Add eggs and blend. (May need to microwave to melt oil again).
Whisk in pumpkin puree, milk, spices, baking soda, and vanilla extract.
Slowly add in flour and continue to whisk, try not to over mix!
Add in any additions.
Bake for 45-55 minutes, until middle is cooked (can check with a tooth pick if it comes out clean, you are good!).
Once cool, slice and enjoy!
Keep in fridge or freeze in slices for a quick go-to!
39 weeks pregnant and I just didn't want to think much, but really wanted pumpkin bread, so I adopted this recipe from Cookie and Kate.
---