Earlier this week, my work asked if I could write a short article on eating healthy on a budget, especially for older adults. Here it is and really is for any age:
'Eating healthy on a budget is tricky and important for any age, especially for seniors on a fixed income. It can be done, while tasting yummy and nourishing your body! Check out the local newspaper for any sales and coupons. Plan out your meals and grocery list around the coupons. When you go shopping, your list will keep you on budget and on track while shopping. If any physical limitations or to prevent picking out 'non-list' options, many places provide curbside pick up or grocery drop off at your home. Curbside pick up is usually cheaper as you don't have to pay for delivery.
When picking fresh produce buy in season items. You can also grab frozen vegetables that will last longer, are easy to prepare in the microwave or oven, and there is no mess! Frozen or canned fruit in water is a good option if fresh fruit is not an option. While you are in the canning isle, beans and lentils are a perfect addition, just rinse once out of the can to cut back on salt. They are inexpensive, a great source of fiber, protein, folate, iron, magnesium, potassium, and zinc. Try mixing beans with meat dishes or substitute meat with beans once a week to cut back on the expense of meat. When buying meat, buying in bulk will be cheapest. When you get home, separate the meat into servings, freeze in portion-sized baggies or between wax paper for an easy defrost later.
Don't forget to keep a well-balanced list filled with fruits, vegetables, lean protein (chicken, fish, turkey), low-fat dairy, and whole grains to make sure you are getting enough protein, fiber, calcium, and vitamins. Try to limit costs that are going to foods with low nutritional benefits, like: cookies, chips, and other snacky foods that will add more cost to your bill with not much nutritional value!'
I love this topic, it is a common concern for my clients. I encourage them it is possible and I practice it as well. Yes eating healthy can be expensive, but at the same time I stood in the grocery store line and watched someone's grocery bill go to $130 with the only healthy item being salmon. So to give you some tough love…stop buying crap food that will do more harm for your body and add up your grocery bill..period! Poor food choices will only lead to expensive doctor and hospital bills, so you make look like you are saving but later on you will regret it!
Listen, this crap food is filled with no fiber, sugar, salt, white flour, saturated fat, etc will only keep you satisfy for a short time and you will have to eat something shortly after (=spending more money on food). When you start changing your diet and focusing on whole foods filled with fiber, nutrients, and healthy fats will keep you satisfied longer so you don't need another meal/snack shortly after.
Also, you don't have to go to Whole foods to get your food to be healthy (yes they may have some items that other stores don't have). But for everyday items go to Aldis and Trader Joe's. They have great items for less since they don't have to pay for big brand names since they have their own brands. They have great quality, only small amount in the store (so less to add to the cart), have cheap organic items, and have fun items to check out. If going to Aldis: bring your own bags and a quarter for the cart (you will get your quarter back)!
So in conclusion, stop spending so much on food that is doing nothing for your body. Yes, enjoy treats once in awhile (not daily). But the money you save on chips, cookies, sugar granola bars, frozen low nutritional meals, soda, sweetened beverages, sugar cereals, etc can go toward healthier items that will heal your body: fruit, vegetables, oatmeal, water, low sugar cereal, frozen veggies, lean meats, nuts, etc.
---
Mini Banana Oat Bread
Serves: 6 mini breads
Directions:
Preheat oven to 350 °F. Oil and coat the mini bread pan with flour.

In a mini bowl add flaxmeal and water. Let sit for 5 minutes to make a vegan egg.

In a medium bowl, smash bananas, add applesauce, almond milk, flax "egg" and vanilla extract and mix together.

In another medium bowl, combine all dry ingredients: oats, oat flour, sugar, baking soda, baking powder, salt, and cinnamon.

Blend wet ingredients into dry ingredients. Mix together.

Separate batter into mini bread pan. Add in dark chocolate, walnuts, or keep plain.

Bake for 30-40 minutes. Until tooth pick is clean when placing into bread.

Enjoy for snack or breakfast for the week (or freeze for later)!
Ingredients:
3 ripe bananas, mashed

2 tbsp flaxmeal + 4 tbsp water

1/3 cup applesauce

1/4 cup almond milk

1/4 tsp vanilla extract

1/4 cup brown sugar

2 cups oat

1 cup oat flour

1 cup oats

1 tsp baking soda

1 tsp baking powder

1/2 tsp cinnamon

1/4 tsp salt

Add in: walnuts, dark chocolate chips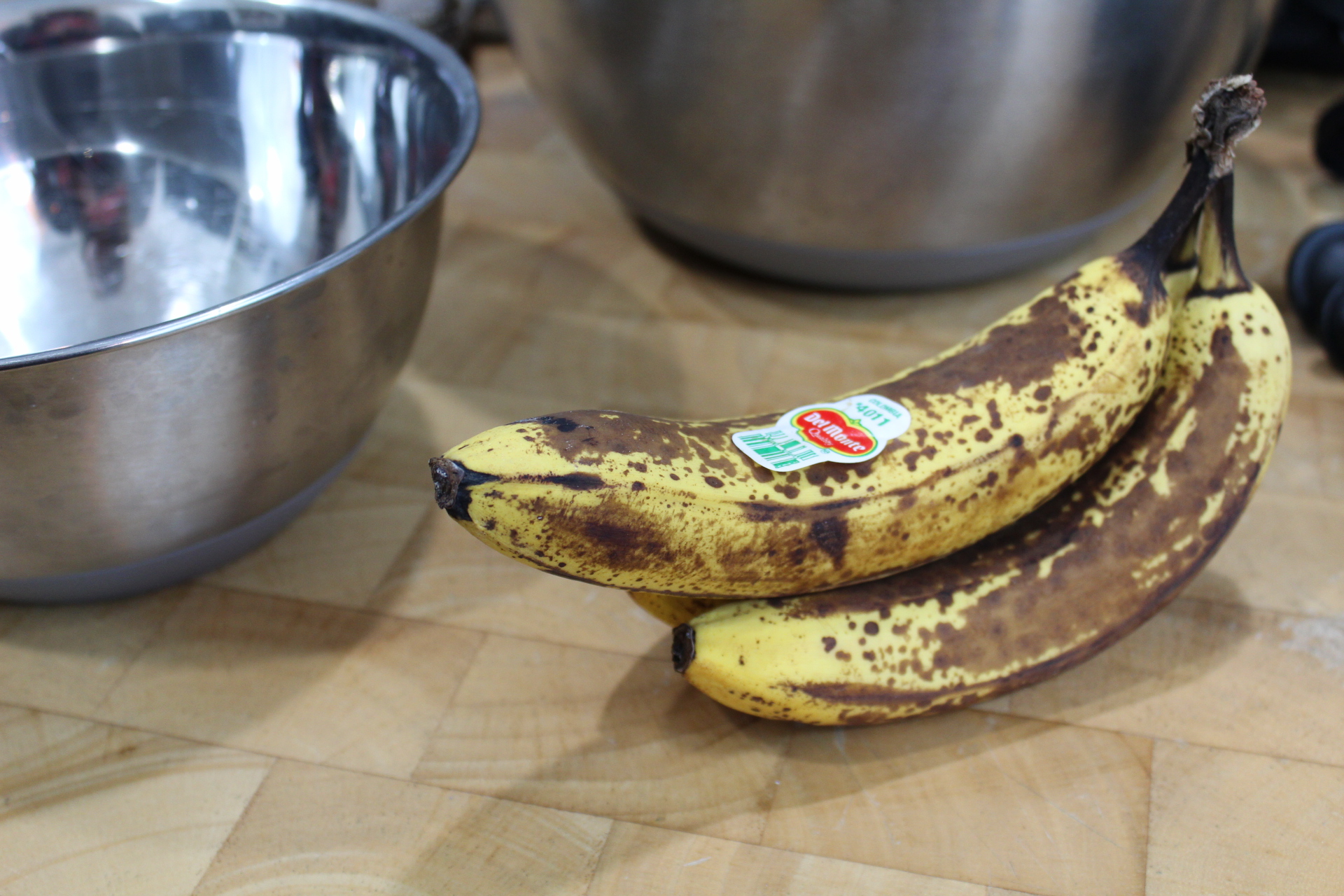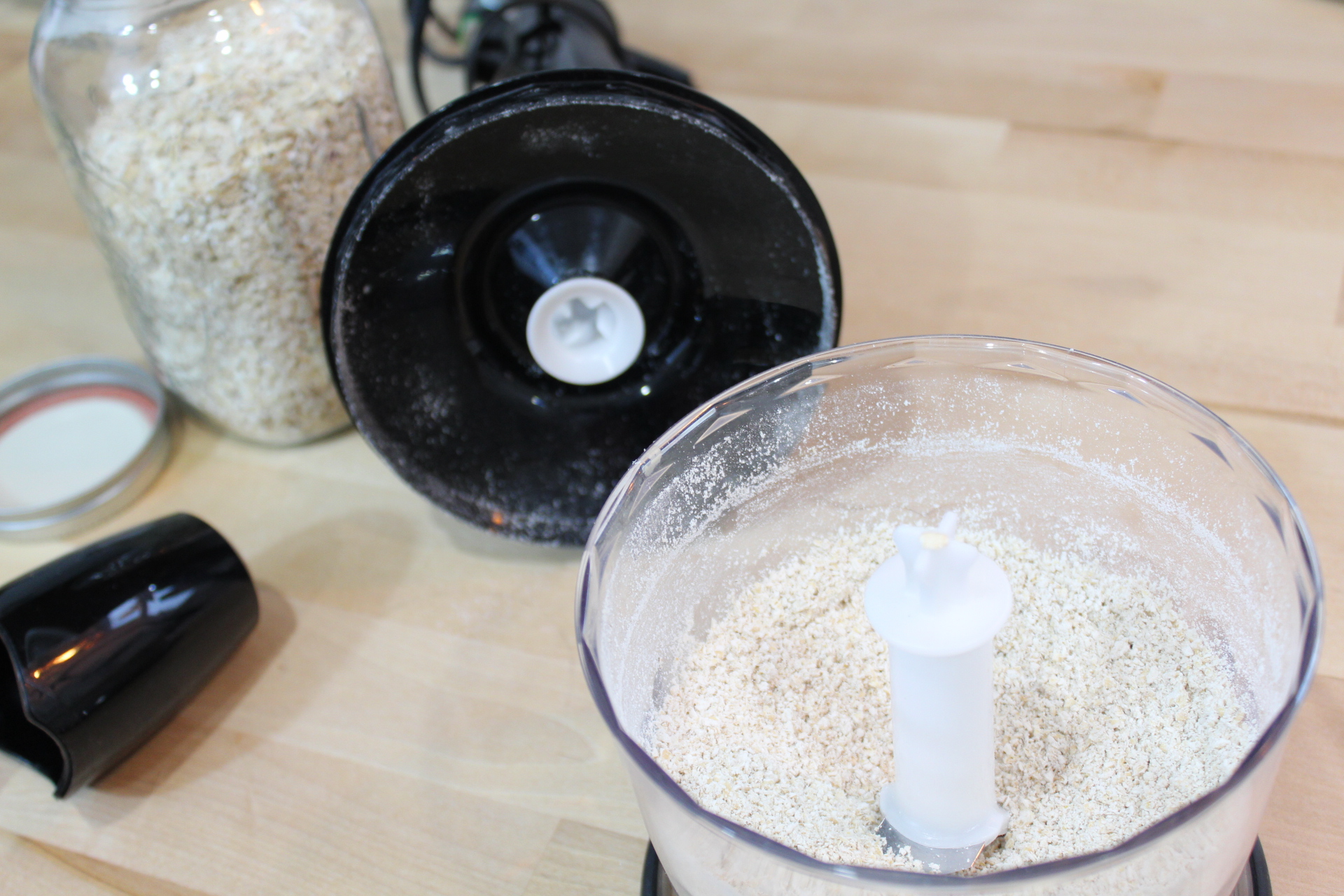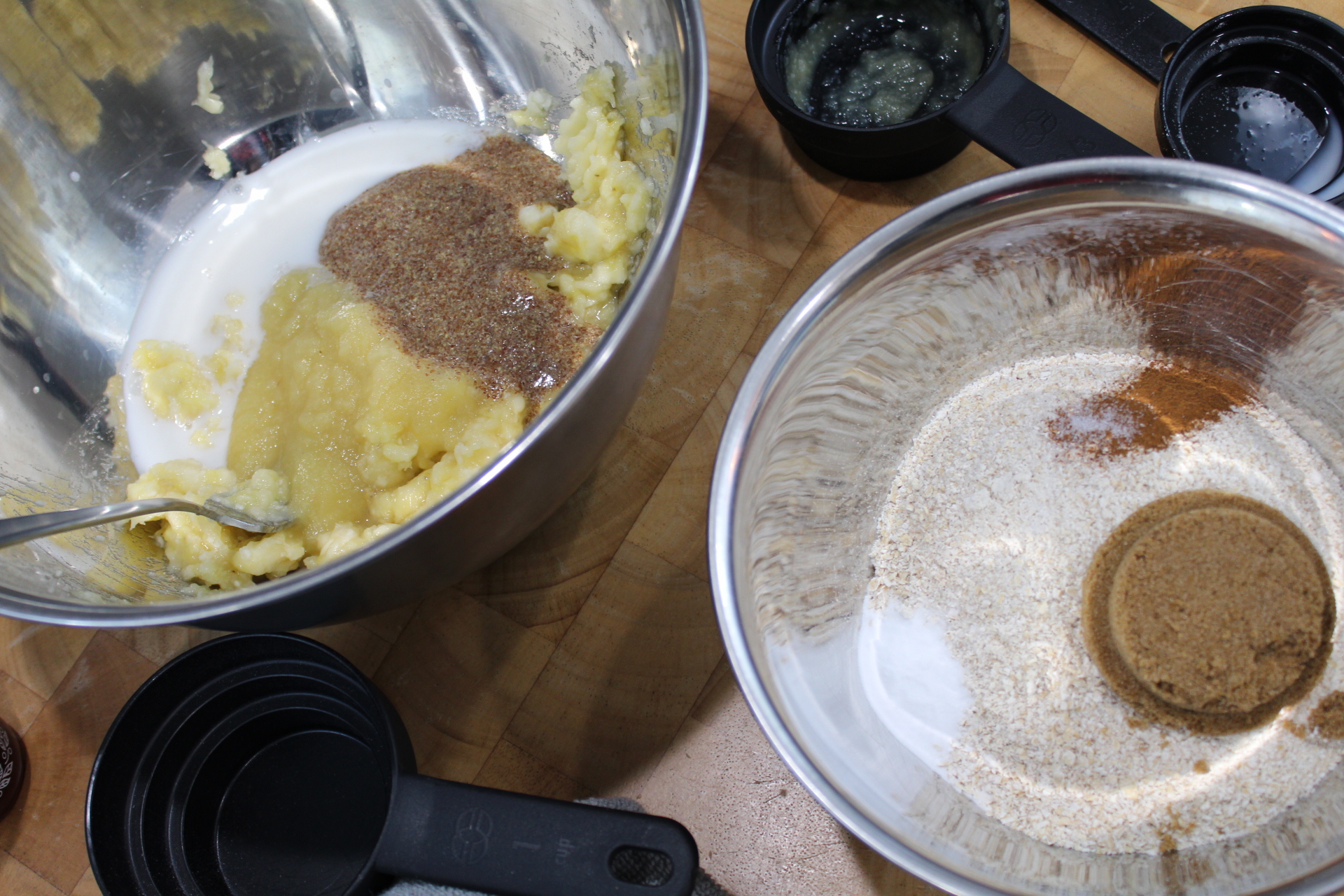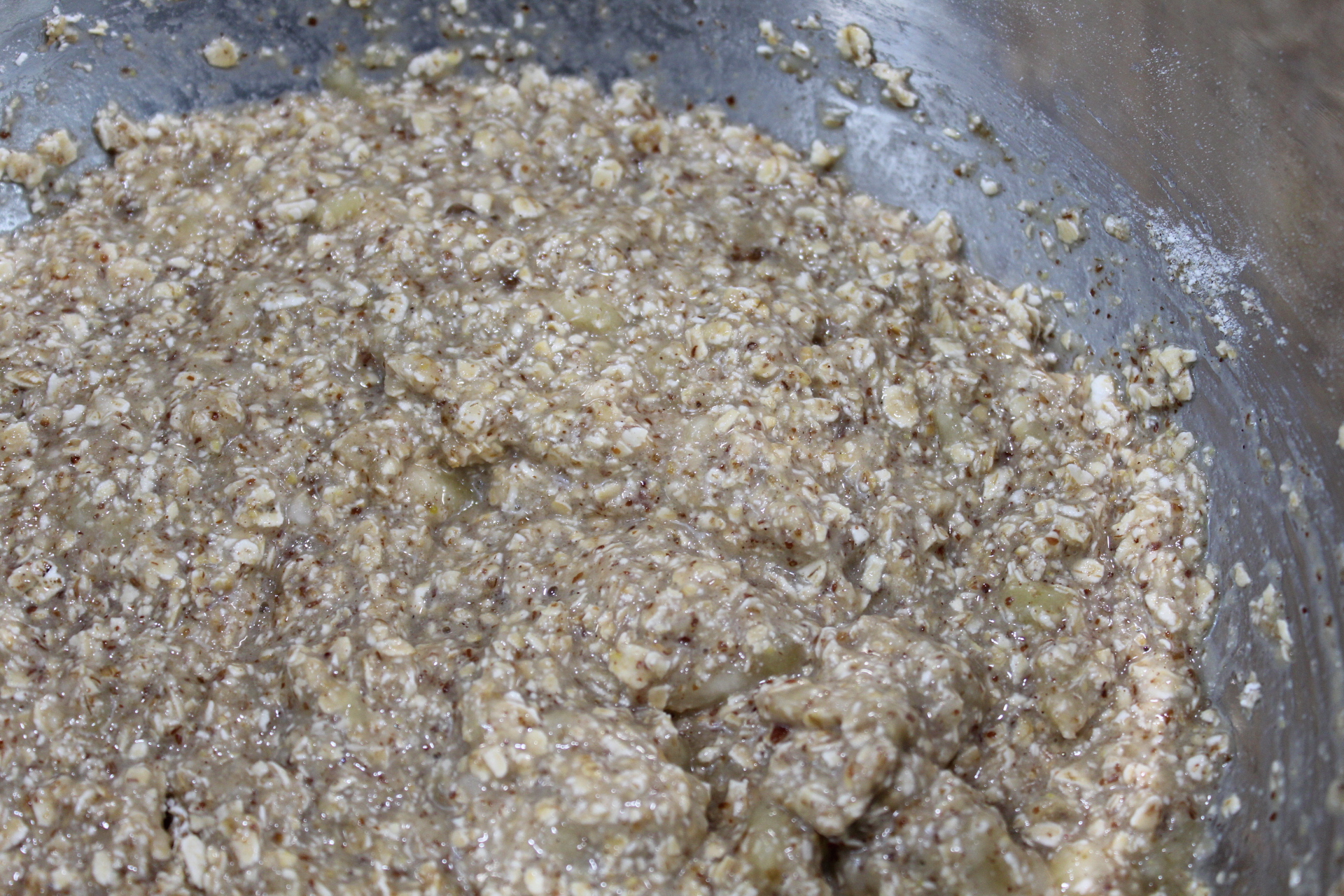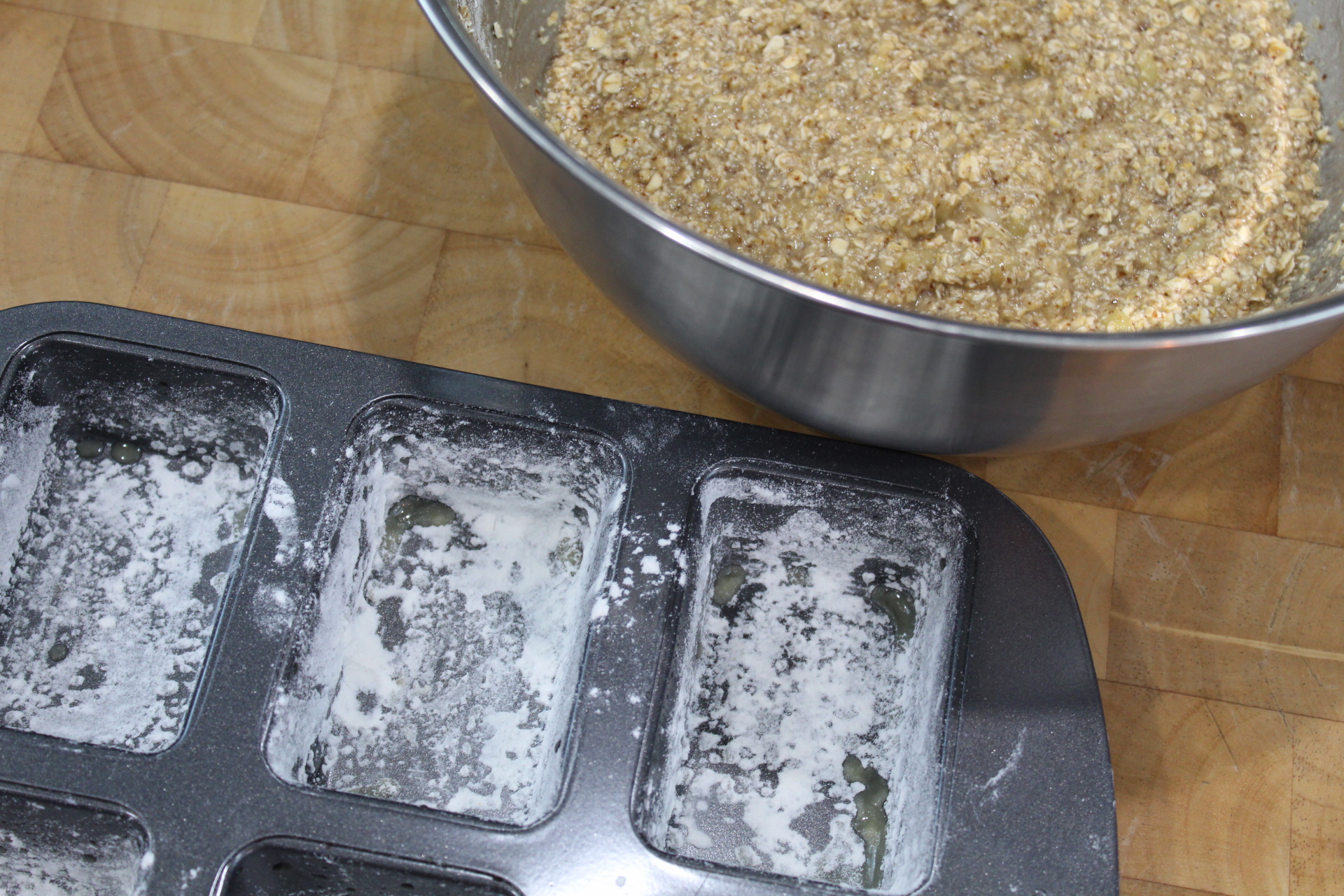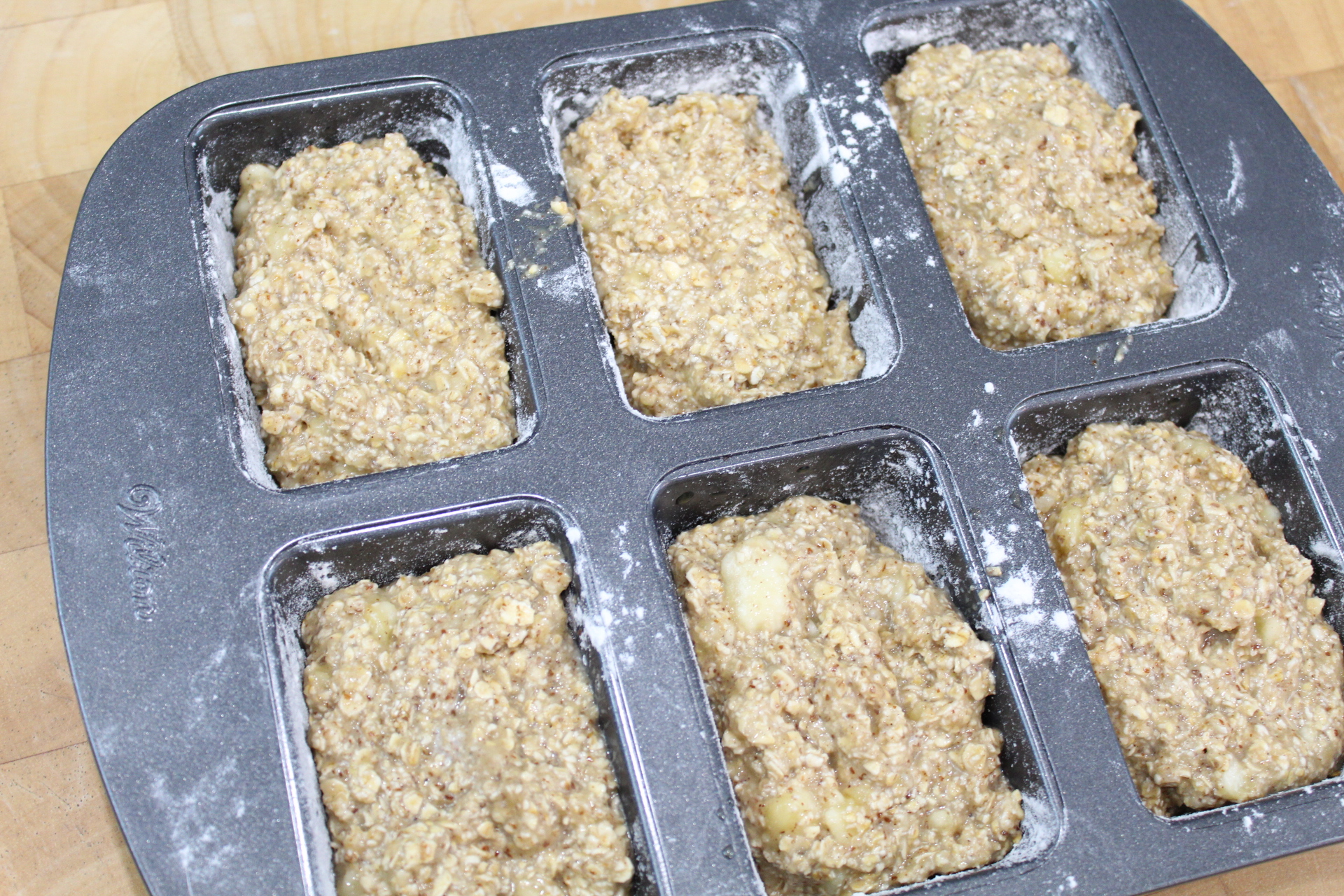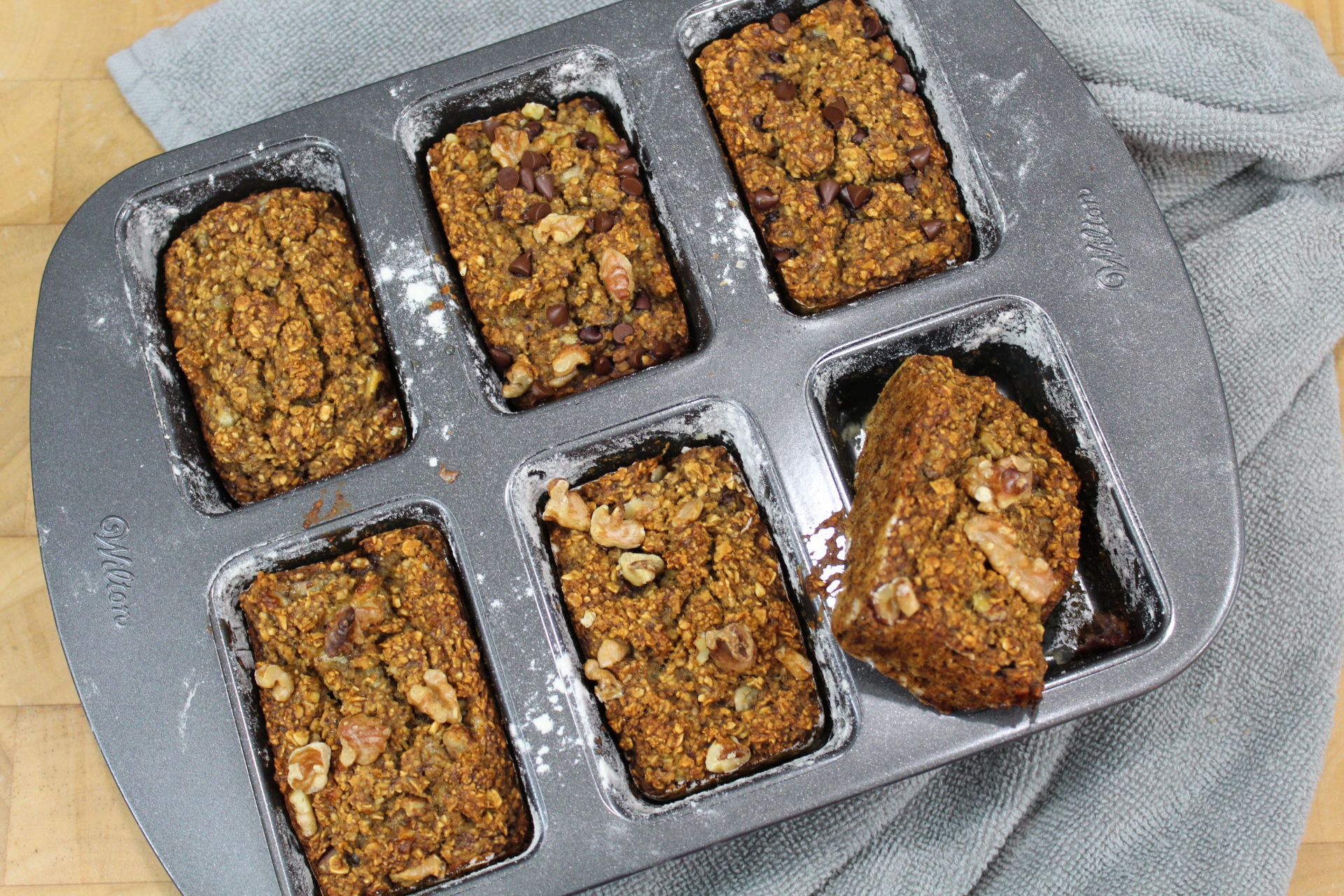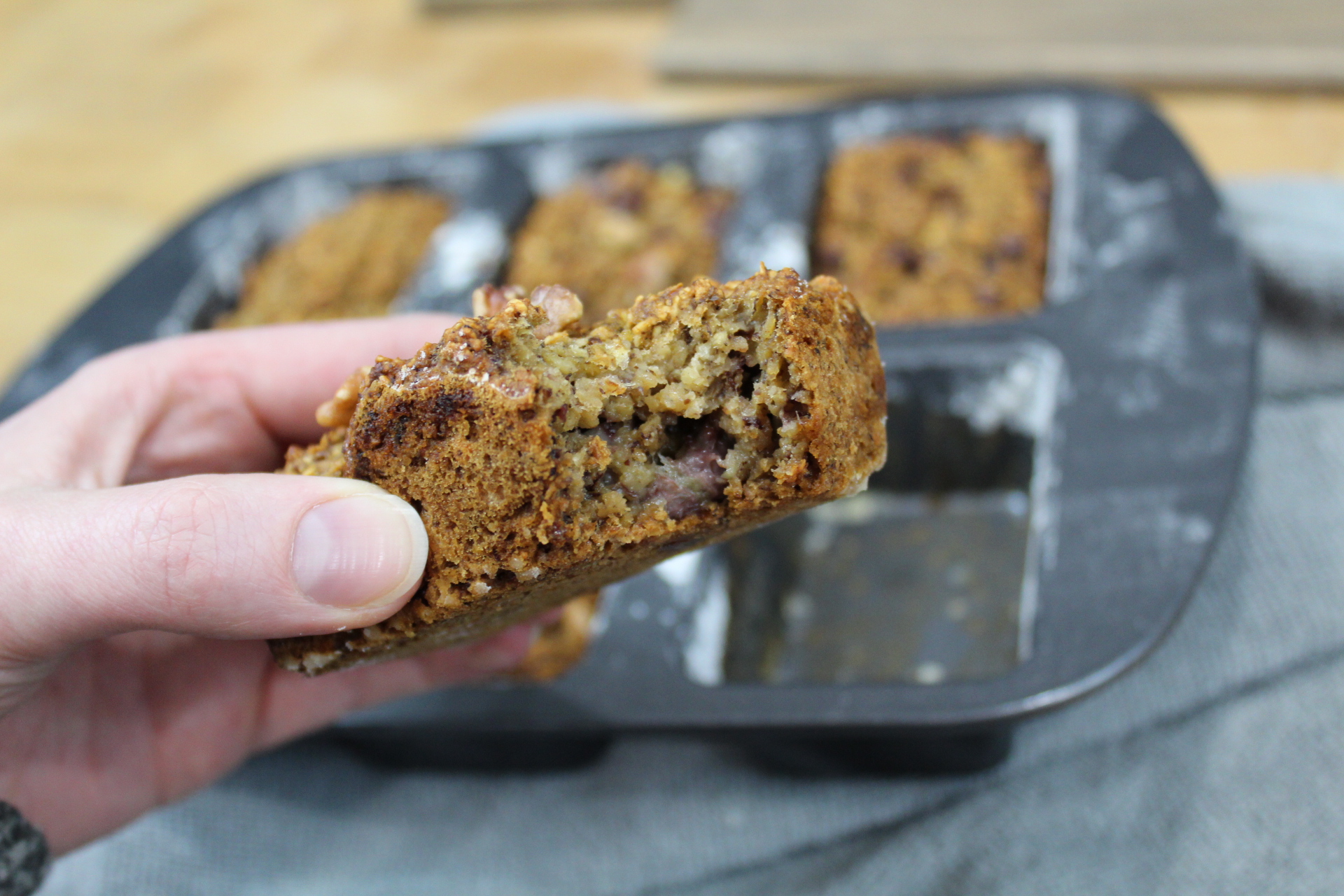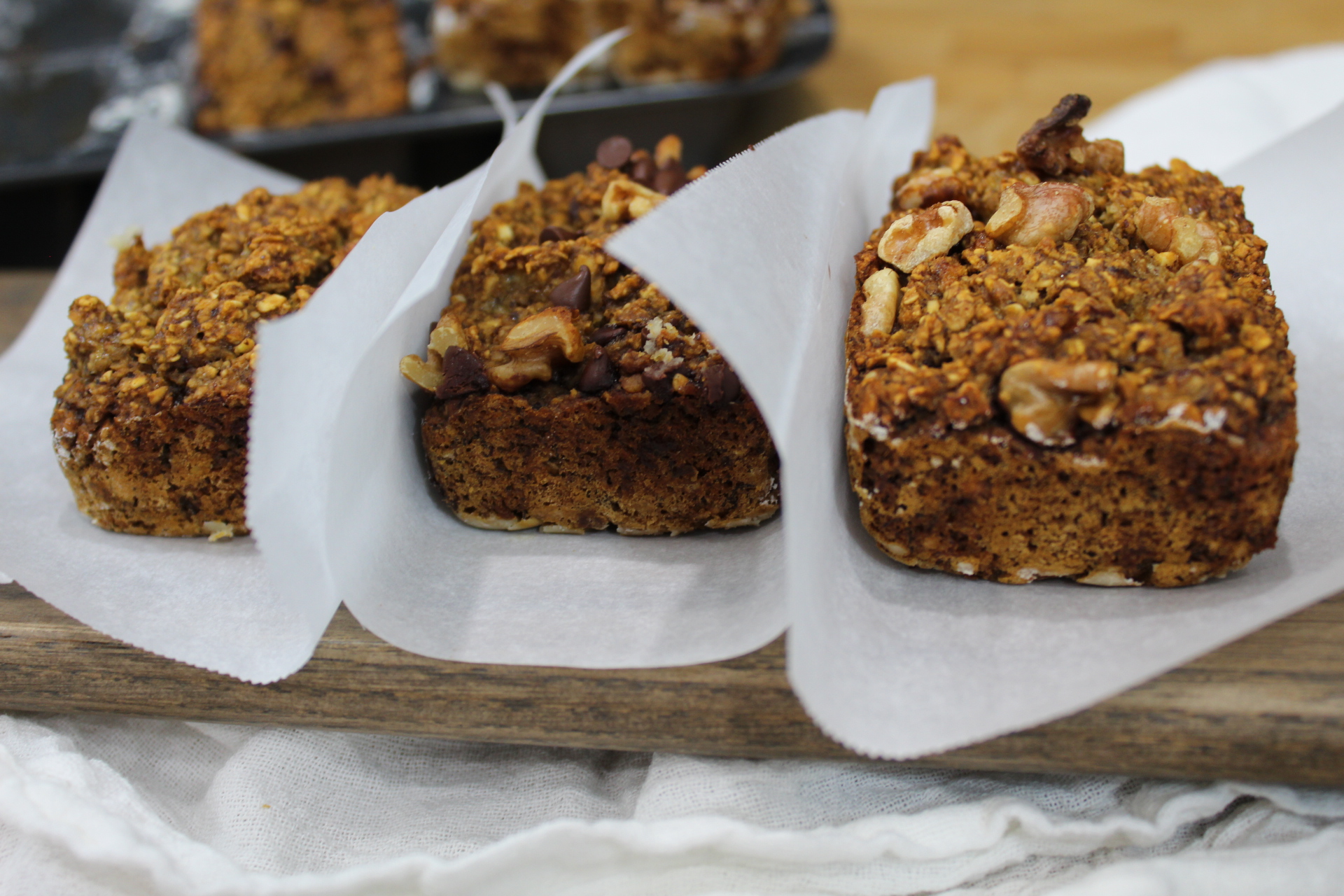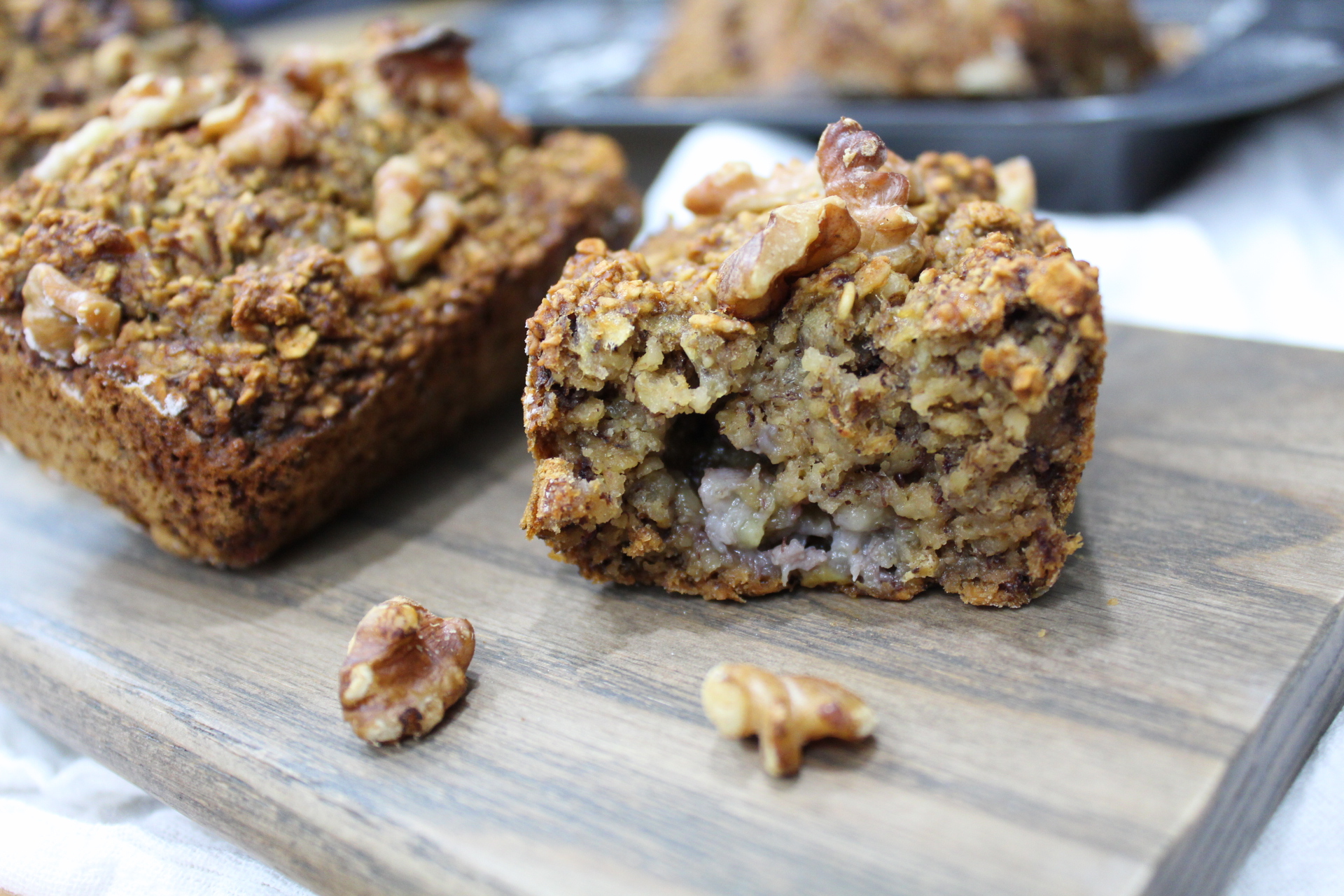 ---
As you prepare your meals and mind for the new week. We are closer to spring as we set the clocks forward! Remember that a positive attitude and a smile are contagious. When you smile, you activate neural messages that benefit you (and the other person). Neurotransmitters: dopamine, endorphins, and serotonin are all relaxed, which will help lower heart rate, blood pressure, depression, and act as a natural pain reliever. Bonus: smiling will make you look more attractive! So next time you are too angry/sad/upset/stressed to smile, just fake it until you start feeling the results! Also, the other person may need that smile more than you! 🙂
---