When I say I am a dietitian, people automatically think I am vegan and eat clean 100% of the time. Well, neither are true for me. I am human and enjoy my desserts and treats. My favorite "treats" include blue tortilla chips and jalapeno hummus, peanut butter, any types of homemade dessert, ice cream, craft brews, and much more. I am not sure I could ever go 100% vegan because I do enjoy eggs, chicken, salmon, and once in awhile a nice steak. Most people have difficulty cutting out cheese, which is not an issue as I rarely consume dairy (cheese, milk, yogurt, etc). Since I was about 10 years old, I always had stomach issues with dairy. I also struggle from cystic acne and have found cutting out dairy helps a little.
I never pressure anyone to a certain diet, unless they have a medical condition that a certain food item needs to be limited (like hypertension and salt). I do encourage my clients to eat more fruits and veggies, since only 1 in 10 adults consume the appropriate amount of veggies and fruit (CDC.gov). For myself, I want to see if eating more plant based can help improve my liver, skin, energy, and bloating. Being mindful about the amount of meat I eat is a newly goal of mine. Instead of having an animal protein at each meal, I have been trying just one meal a day. My husband and I like to meal prep chicken in the beginning of the week. It is so easy to throw in a salad or as leftovers. Recently, I have been opening a can of beans and switching my chicken meals with beans and rice or a grain. I look forward to continuing this challenge throughout the holidays. Not every day will be perfect, but I like the challenge!
For dinner last night I really wanted stuffed peppers. I haven't made them in years and when I did, I filled them with ground turkey. This time around I used more beans for me and ground turkey for my husband. Since I don't eat cheese, I used nutritional yeast to give me a cheddar cheese taste. Guess what… I didn't miss the ground turkey!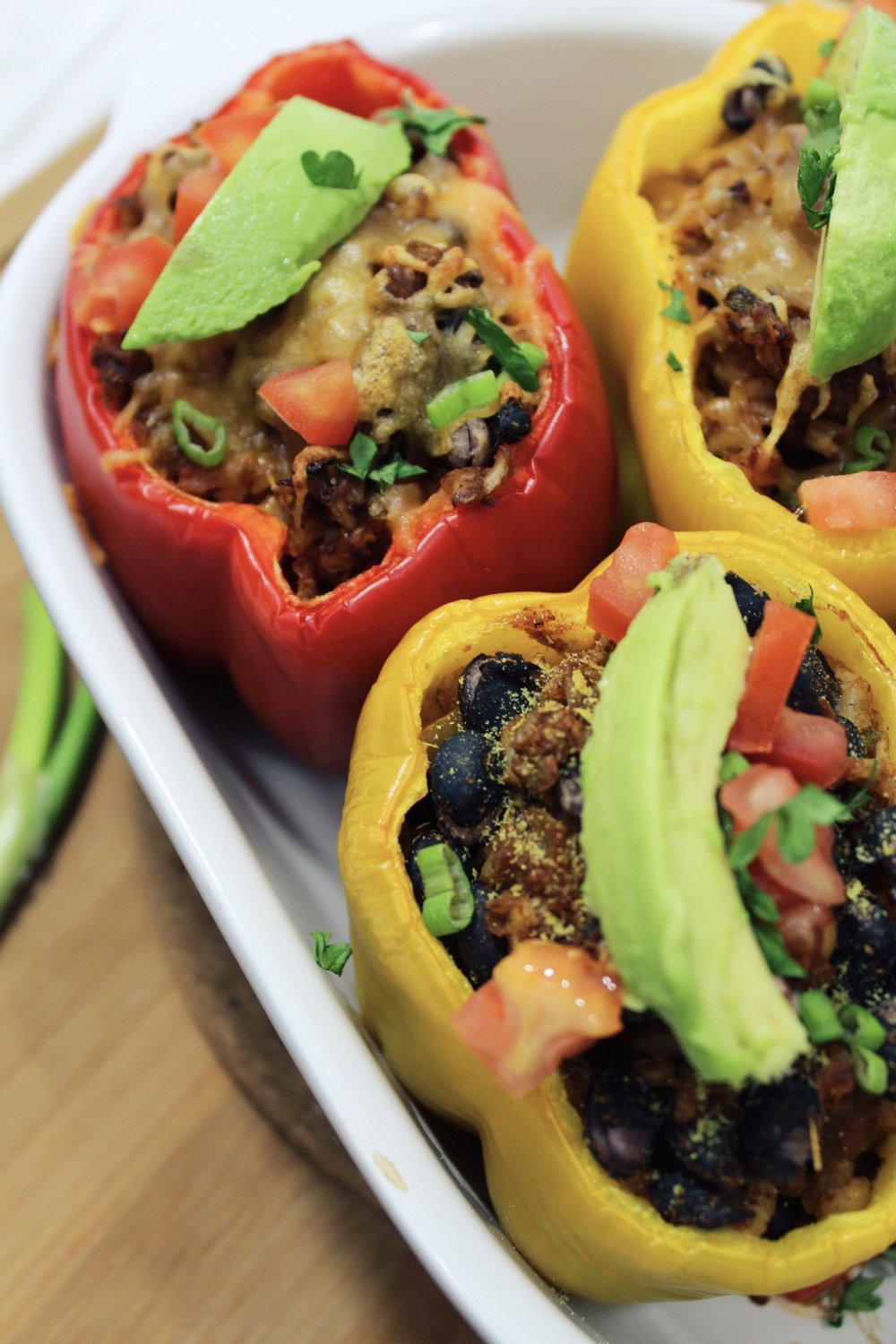 ---
Taco Stuffed Peppers
(Choices for Turkey or Vegan stuffing)
Serves: 2 (4 peppers)
Directions:
Preheat oven to 375°F.

Cook brown rice according to package.

For turkey taco: In a large skillet pan, cook ground turkey until brown.

In a skillet pan, on medium heat, drizzle olive oil. Saute garlic cloves and green onions for 3-5 minutes. Add cooked rice, beans, salsa, taco seasoning mixed with water, and turkey (don't add turkey if you want to be vegan).

Cut the tops of the peppers and remove the inside. Fill with taco stuffing, cover with foil. Bake for 20 minutes.

Remove foil, top with nutritional yeast or cheese and bake for another 5 minutes, or until cheese is melted.

Remove from oven and add slices of avocado, chopped tomatoes, cilantro, etc.

Enjoy!
Ingredients:
4 bell peppers

4 green onions, chopped

2 garlic cloves, minced

1 cup brown rice

1/2 cup salsa

3 tbsp taco seasoning (+1/4 cup water)

1/4 cup black beans

Olive oil

Protein:

Turkey tacos: 1 lb ground turkey

Vegan: additional 1/2 cup black beans

Topping:

Turkey tacos: 1/2 cup cheddar cheese

Vegan: 2 tbsp nutritional yeast

Add ons:

Avocado, cilantro, tomatoes, green onion