Hi blog family! If you don't follow me over on my instagram (@a_bitt_of_nutrition) or my facebook (Same name), you may have missed the huge news in my family. My husband and I are expecting a little one in September. My husband has been wanting kids for a long time. For me, I wanted to get my career started and figure out what was going on with my body.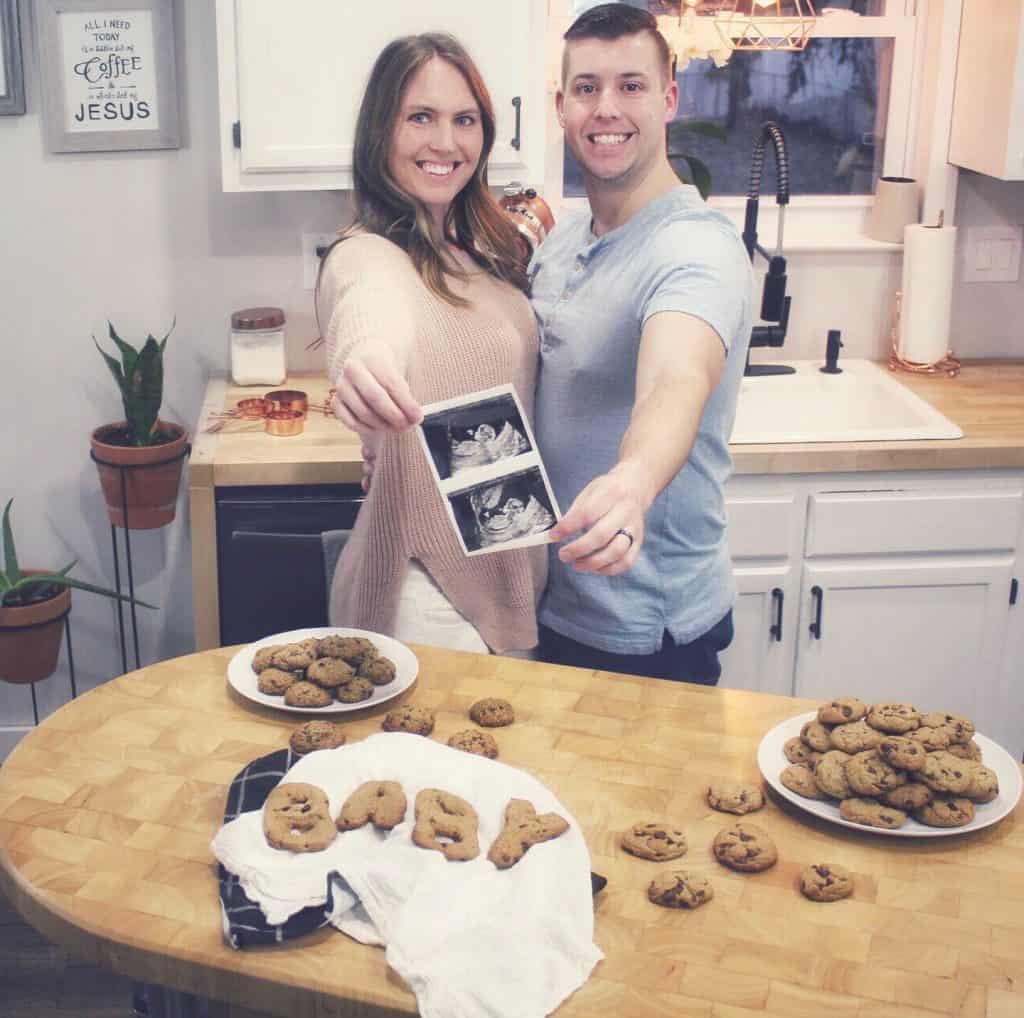 I am going to be vulnerable here so I can help someone else out there… my first gyno told me I had a 25% chance of getting pregnant. This is when I decided this practice wasn't where I was meant to be a patient (along with many visits of feeling like the gyno was throwing me pills and not listening). She said this because my whole life I have struggled with getting my period. I was on birth control for years in high school and some of college for my period and my acne. I just didn't feel like it was natural and wanted to figure out what the root of the problem was, so I took myself off birth control. My acne is still bad, especially when I eat a ton of dairy or sugar. I am still trying to figure out the root cause but having acne (hello white heads) at this age is awful.
My husband and I wanted to start trying end of summer and in the fall of 2018 (not thinking we would have success naturally). I started tracking on the Flo app. In 2018, it was the first year I was getting a 'sort of' regular period schedule. My periods came every other month on the same week. During this time, I was also training for my first marathon and put my body through a ton of stress from it. After my marathon, I started cutting back on working out so intensely, my period came November and December the same week! Not sure if I am the only one that got excited for a period?! The Flo app tells you when you have a high chance of getting period, so we figured we would try. Apparently, it was right!
But, my story wasn't that easy. A few months prior to getting pregnant I started to go see Dr. Jen Phillips, whom is a naturopathic doctor. She did some intense lab work and found my liver enzymes elevated, low iodine, low omega-3 DHA and EPA, and low vitamin D. I started to supplement my omega-3 ( and eat more salmon), vitamin D, and iodine. Iodine is used to make thyroid hormones and when low can cause pregnancy-related issues, difficult with weight loss, and can lead to hypothyroidism. Which made sense for me: I eat so well and was training for a marathon and was gaining weight versus losing it.
During this time I also started to drink celery juice every morning to help my acne and liver. I stopped it when my nausea started to get bad. My acne improved a little, but most importantly my liver enzymes went down! I got pregnant after drinking the celery juice for a month and taking my supplements from the doctor for 3 months. I am just so thankful that I went to go see her! She also recommended a natural midwife whom had the same views as me. So now I have two amazing healthcare professionals that support me, listen to me, and lead me down a road I am actually comfortable with.
I was beyond shocked when I saw my 6 pregnancy tests were positive! But my husband and I are so thrilled for this new adventure. I will do another posts about how I have been feeling, but the nausea and tiredness have been real so it will be another day! In the meantime enjoy this oat chocolate chip cookies!
Feel free to message me if you have any questions!
---
Oat Chocolate Chip Cookies
Course: Dessert
Ingredients
2 tsp vanilla extract

1 large egg

4 tbsp brown sugar

1/2 cup coconut oil

1.5 cups oat flour

1/2 tsp baking soda

1/2 tsp cinnamon

pinch of salt

1/2 cup chocolate chips
Directions
Preheat oven to 350 degrees F.
Grind up oats into a flour consistency.
In a mixing bowl, combine vanilla extract, egg, and brown sugar. Melt the coconut oil, let it cool a little before adding it.
Combine together.
Add in the oat flour, baking soda, cinnamon, and salt to mix together.
Fold in the chocolate chips.
Chill the dough for at least a half hour.
Use a cookie scoop and pack tightly.
Bake for 8-10 minutes until golden brown on the edges.
Let cool and enjoy!
---