As we prepare to go back into the "new" real world, work, and hanging out with friends and family, some anxiety occurs. During this quarantine, I have found that I am a home body. I enjoy being home and working from home more then ever before. It is strange. Five years ago I would never see this in my future as I always had plans to go out every weekend. My desires and frankly my life has changed, for the better. Having a baby was the biggest change as I can't do things I did before.
I say this because I have been working on something BIG for a few months and find a lot of my quiet time (when Bryce is in bed) focusing on my blog and the new adventure coming my way. Some more stress, along with excitement for what my future may hold. This has been something on my heart for years now and I am excited as I see my future starting to happen. Also, thankful for the friends and my hubby that have been motivating and pushing my to kick butt on this new adventure. Stay tuned to find out!
In the meantime, Memorial Day Weekend is here, as shocking as it may feel. It may not be a normal MDW, but one we will never forget. Everyone is tired of being stuck at home and are getting together with friends and family. How are you feeling at this time?
I find it perfect that strawberry season is right during MDW and blueberries are around July 4. Perfect time for flag cakes! I have been trying to figure out a fun crust. Many years ago I made a graham cracker crust. This time I wanted to do a more "whole food" option. I was thinking of making my coconut lemon energy balls for the crust. But wanted something different.
Minimalist baker had a recipe for 5 ingredient granola bars, so I figured why not make that into a crust? A no-bake granola crust "cake". Plus I didn't have to figure out a recipe on my own, so win-win. It is the perfect sweetness with wholesome ingredients that will keep you satisfied longer, unlike regular American desserts. Do not get me wrong I will enjoy a typical American dessert once in awhile, especially dessert or my mother in law's pineapple gooey cake. Otherwise I am not a big plan cake person, unless it is a fun flavor. This granola cake is the perfect dessert (could be for breakfast or a snack too) for me and I hope for you as well!
No-bake Flag Granola Cake
Course: Breakfast, Dessert
Turned Minimalist Baker's 5 ingredient granola bar into a cake crust and topped with Greek yogurt and fruit for a decorative and healthy dessert.
Ingredients
1 cup dates, pitted

1/4 cup honey

1/4 cup natural pb

1 cup mixed nuts (or just almonds)

1.5 cup rolled oats

1 cup plain low fat Greek yogurt

1/2 tsp vanilla extract

2 tbsp honey

1.5 cups strawberries, sliced

1/4 cup blueberries

Directions
Process dates in food processor until it forms a paste ball.
Process nuts in food processor for a short time to keep some of the nut's shape.
In a large mixing bowl mix oats, almonds, and date ball. May need to use your hands or spatula to spread the date mixture out within the oats and nuts.
In a small saucepan, heat honey and pb over low heat. Pour mixture into date mixture and fold together evenly.
In a 9×13 in pan (for a thin granola crust or 8×8 in for thicker granola bars) line with parchment paper, press mixture firmly into pan.
Let it sit in the fridge for 15-20 min while you get the toppings ready.
Mix Greek yogurt, honey, and vanilla together. Let it sit in the fridge.
Remove items from fridge. Layer yogurt on top of granola crust. Finish with blueberries and strawberries as the flag.
Enjoy!
---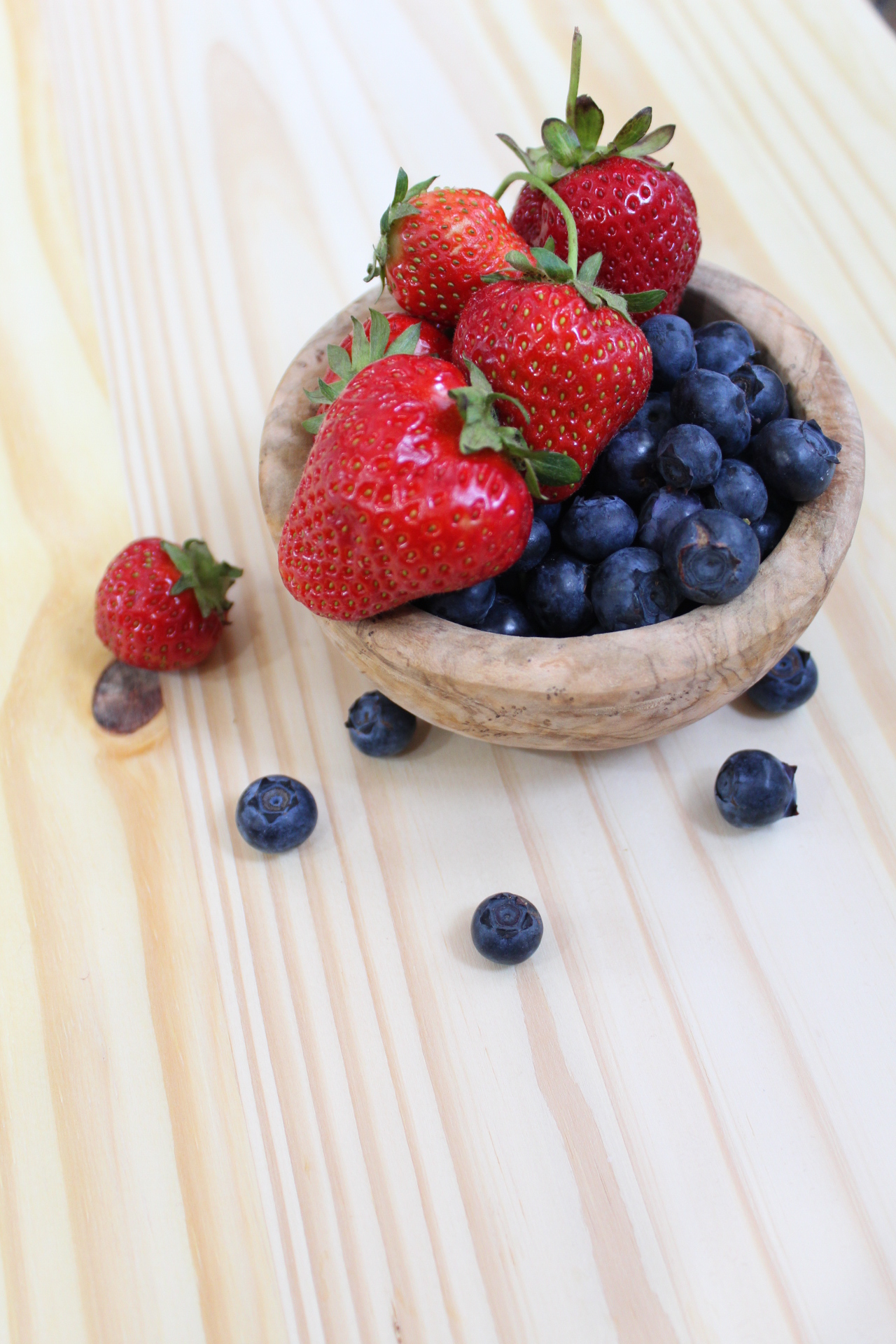 Fun Facts about Strawberries
-Come out around May and end around middle of June
-Very high in Vit C and antioxidants
-Good source of manganese, potassium, folate, and fiber
-Promotes immunity
-Helps your body use iron
-Contains phytonutrients for heart-healthy and cancer-protective benefits
-10 strawberries have 36 calories!
-Eat raw, with yogurt, chocolate covered, in a salad, salsa, in a smoothie, with a shortcake, and use your imagination.