It is a new Month and one that is super close to summer. May is a great month with the weather, beach visits, local produce, longer daylight, and Memorial Day, which means the start to summer! The seasonal produce that begins in May includes: spinach, asparagus, radishes, rhubarb, and strawberries. I totally indulged in my family's farm strawberries today and we have been eating a ton of asparagus (#smellurine). The thing with Jersey asparagus is it gets really sandy, so make sure you rinse it really well or you will be chewing sand.
---
Chicken and Asparagus Stir Fry
Course: Dinner, Healthy Tips
Ingredients
2 tbsp olive oil

2 chicken breast, cubed

1/4 cup broccoli

1/4 cup asparagus, chopped

1 med carrot, thinly sliced

2 garlic cloves

1/8 cup water chestnuts

1/8 cup snap peas

1/2 cup coconut aminos OR low sodium soy sauce

1/2 tsp ginger

1 tsp sesame oil

1 tsp rice vinegar

1/2 tbsp cornstarch

1/4 cup chicken stock

pinch red pepper flakes

top with: sesame seeds
Directions
Mix together soy sauce or coconut aminos, ginger, sesame oil, rice vinegar, cornstarch, chicken stock, red pepper flakes
In a medium pan, drizzle 1 tbsp olive oil, cook chicken for 5 minutes on medium heat or until internal temp of 165°F.
Remove chicken from pan.
Add 1 tbsp olive oil. Cook veggies on low heat for 8-10 minutes until soft.
Add 1/4 cup water.
Add chicken and sauce to veggies. Let sauce simmer with the chicken and veggies for 5 minutes, until it thickens.
Enjoy with brown rice and top with sesame seeds.
---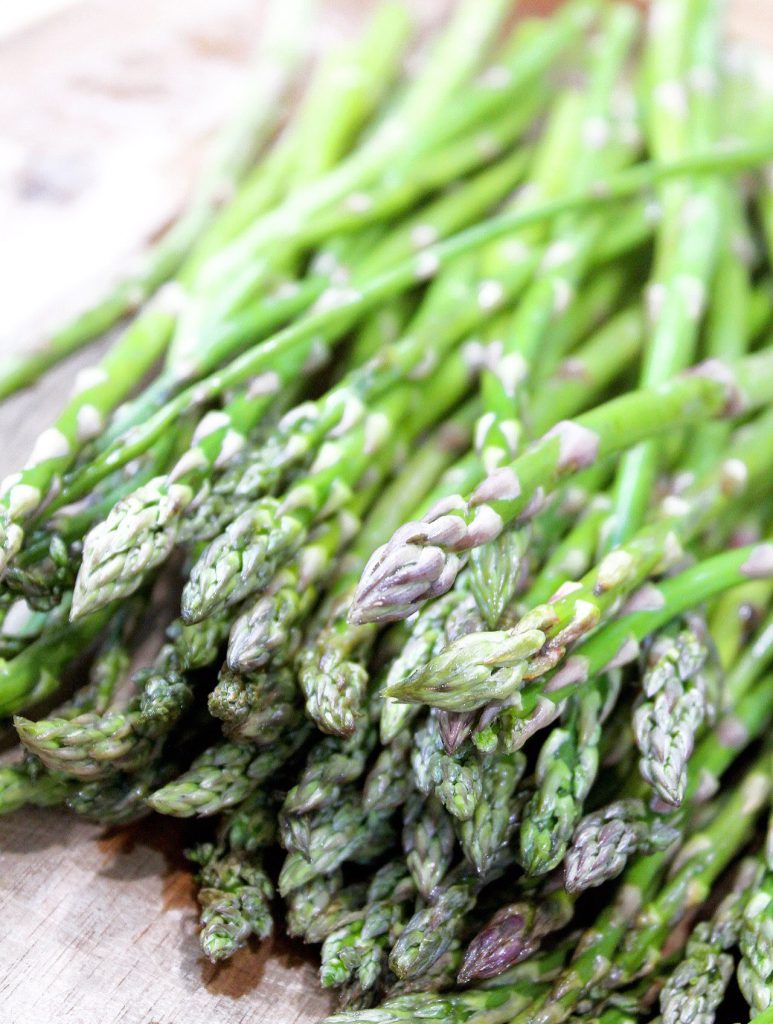 About Asparagus:
1/2 cup (67g)=17 cal, 135 mg Potassium, 9mg magnesium, 35 mcg folate, 2.6 gcarbs, 1.4g fiber, 10%DV vit A, 6.3%DV Vit C, 7.9%DV iron
Smelly urine from asparagusic acid, which contains sulfur compounds
⬆️ folate: important to reduce birth defects, prevent cardiovascular and mood problems by lowering homocysteine levels, needed for red blood cell production.
⬆️copper: to make collagen for healthy tissues, helps with bringing iron into red blood cells.
⬆️selenium: (levels differ per soil it is grown in) an antioxidant, required for enzymes used in body's detox system, helps convert thyroid inactive hormone T4 into its active form T3 for a healthy thyroid.
⬆️Vit K: blood clotting, healthy bones to prevent fractures.
⬆️Vit B1 (thiamin): helps in the production of energy from carbs and fats, important for your brain cells.
⬆️inulin: a prebiotic fiber needed for gut health.
Pick stalks that are thin, odorless, dry, and tight tips
Wrap a damp towel around the bottom when storing it
Store in fridge for up to 4 days
Roast, steam, grill, or eat raw