Here are the pretty tulips we got at Dalton's farm. We drove around their tulip farm, which was something different to do and brought more happiness around in this quarantine. I hope they cheer you up!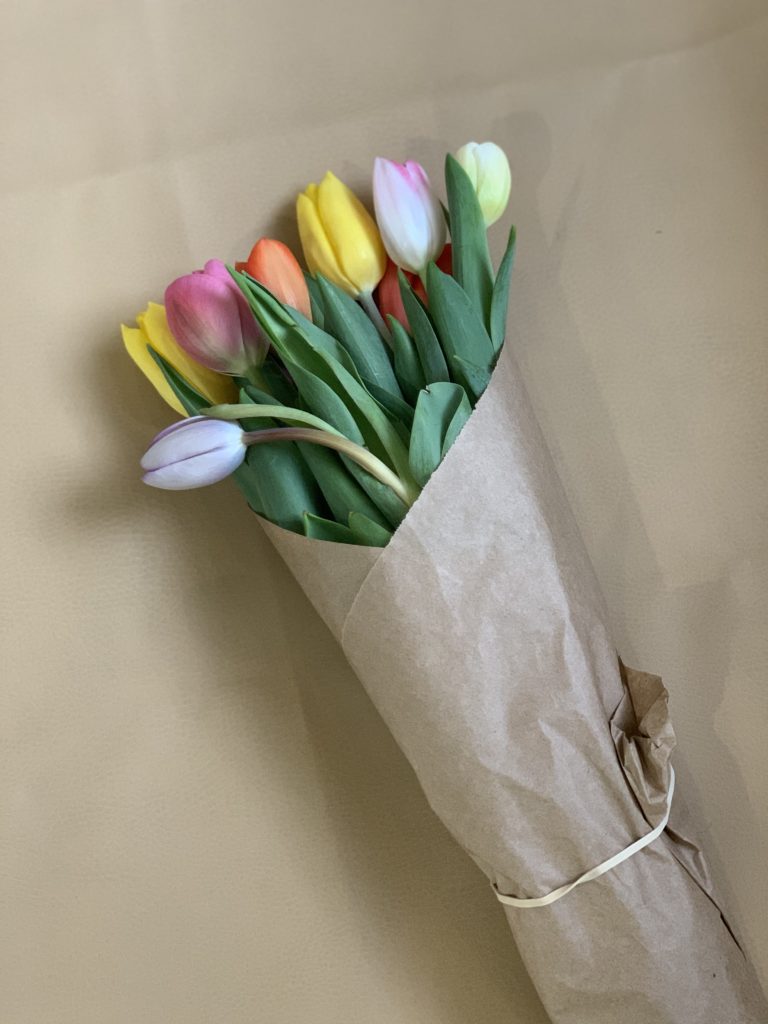 So we are about a month into quarantine. Having a 6 month old totally helps distract us but also very difficult to get stuff done in the house. He takes about two 30 min naps a day and his sleep has been very off. Two to three hours of sleep last night and a 3 o'clock in the am crawl around his room. I know, I know we need to get more of a schedule. Which we have tried but this boy falls asleep in our arms and wakes up in the crib ready to play.
Today is a cold, rainy Saturday meaning we are more tired naturally, plus this lack of sleep doesn't help. I may actually nap today, which I never do. I am trying to listen to what my body is saying. Yesterday I didn't work out because I didn't want to. Tomorrow we are going to get ice cream, since one of our fav places called Cream Valley opened for the season. Thinking about social distancing ice cream party while enjoying our ice cream sitting on the beds of our trucks.
Other wise, I am taking 1-2 weeks to track what I am eating just to get back on track. I don't want to get too obsessed over the numbers and want to eat more intuitive so two weeks is the max. It is a way to get portions back into control and being stuck in the house there are more temptations.
This quarantine brings more time to try new recipes. Banza sent me a few boxes of their chick pea lasagna noodles. I don't eat regular lasagna much, maybe once a year. Regular pasta and lasagna does not fill me up, so I usually am not satisfied. Plus, I like to add veggies in my lasagna. By using chick pea lasagna, it provided more protein and fiber compared to white flour lasagna. I added a small layer of zucchini and eggplant as well for an added punch of veggies. We also had a side salad with it to get the remainder of our veggies.
I only had 2 cups of tomato sauce from my previous blog with turkey meatballs with marinara sauce and crushed the meatballs to make more of a meat sauce for the lasagna. Since we don't want to go to the store for just tomato sauce, I only used the two cups. But I totally recommend 3 cups (of regular sauce or meat sauce).
It is important to take the time to remove some moisture from the eggplant and zucchini with salt and paper towels. Salting the eggplant also helps eliminate some bitterness. Roasting the eggplant helps decrease the typical 'slimy' texture you get from eggplant and enhances the flavor.
---
Zucchini and Eggplant Banza Lasagna
Course: Dinner
Ingredients
1 box of Banza lasagna

1 large eggplant, sliced thin 3.0mm

2 zucchini, sliced thin 3.0 mm

3 cups tomato sauce*

1 (15oz) container part skim ricotta cheese

1 egg

1 tsp Italian seasoning

1.5 cups mozzarella, shredded, divided
Directions
Preheat oven to 350 °F.
Slice zucchini and eggplant on a medallion, keep skin on. On a tray, place a layer of paper towels and a single layer of eggplant/zucchini, sprinkle salt and repeat. Let it sit for 20 minutes to eliminate the water (See pictures).
On a greased baking sheet, lay eggplant on a single layer, drizzle or brush little olive oil and bake for 15 minutes.
In a medium bowl, mix ricotta, 1/2 cup mozzarella, Italian seasoning, and egg.
Layer: sauce, Banza lasagna, ricotta mixture, zucchini, eggplant, finish the top layer with 1 cup mozzarella.
Bake for 25-30 minutes. If you want your cheese crispy like mine, broil for 5 minutes.
Enjoy!
Notes
*(I only had 2 cups with ground turkey meatballs from my recent marinara sauce with turkey meatballs and I broke up the meatballs to make a meat sauce. 2 cups was not enough)
---