Last Thursday I made two different smoothies for a health fair. One was a Green shake consisting of: green apples, cucumbers, kale, spinach, lemon, and celery. The other one was a Berry shake consisting of: frozen mixed berries, chia seeds, almond milk, banana, frozen cauliflower, and carrots. I wanted to show the employees how you can incorporate veggies into your smoothies. The employees reactions were hysterical with the green one. Fifty percent liked it and the other fifty made a gross face and couldn't finish it. I was just glad they tasted it!
I have one client that goes to a smoothie place and she gets a green smoothie. When we looked at the nutrition facts, there was 100 g of sugar and 4 g of protein in one shake! I explain how the shake may be loaded with fruit. Yes, fruit is healthy but when the shake is loaded with all fruit, it will spike your blood sugar and won't keep you fill. If we were to eat all the fruit in one sitting, we most likely won't be able to eat it or get extremely full. It is very easy to just sip the smoothie down. For example: 2 bananas, 1 cup berries, and some other fruit. That would be hard to eat in one sitting. So I encourage my clients to add:
vegetables: spinach, kale, cauliflower, carrots, sweet potatoes
healthy fats: flax seeds, chia seeds, nuts, avocado
protein: low sugar protein powder, collagen, peanut butter, Greek yogurt, tofu
This smoothie bowl includes strawberries, banana, frozen cauliflower, carrots, collagen, flax, and chia seeds. It was super filling and I couldn't finish the whole thing (which is not like me!),
---
Strawberry Banana Smoothie Bowl
Course: Breakfast, Dessert, Healthy Tips
Ingredients
1 cup strawberries*

1 small banana*

1/2 cup cauliflower*

1/4 cup carrots

1 scoop collagen

1 tsp flaxmeal

1 tsp chia seeds

1 cup unsweetened almond milk

top with: fruit, nuts, seeds, cocoa nibs, oats
Directions
Add all ingredients into the smoothie cup.
Blend until smooth.
Enjoy with toppings
---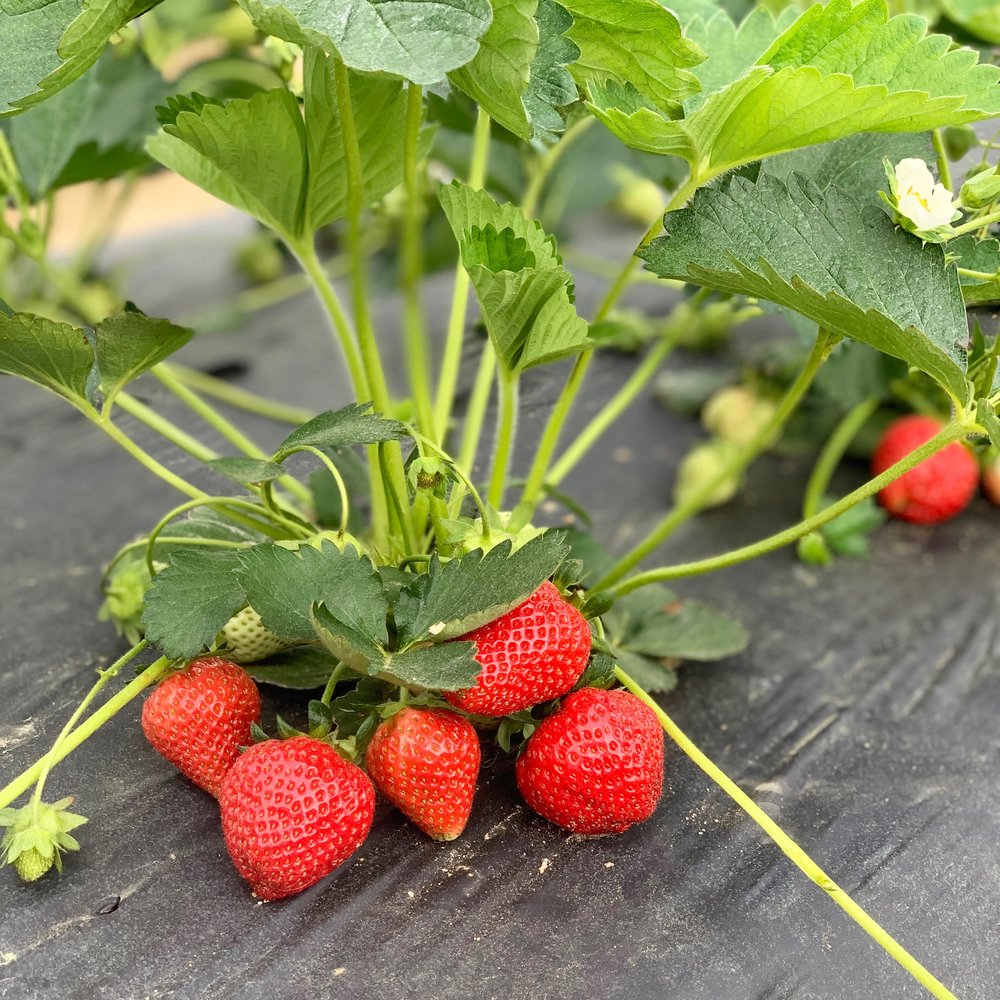 All About Strawberries
10 strawberries=36 calories
Season from May to June (in Jersey)
High in Vit C: important for collagen production, absorption of non-heme iron absorption, immune system
High in Antioxidants: prevent free radicals to help prevent cancer, improve immune system, anti-inflammatory, help delay aging
High in manganese: important for bone formation, collagen production, protects against UV light damage, and protects against free radical damage
High in fiber: healthy bowel movements, helps keep blood sugar staple, helps keep you satisfied longer
Eat in salad, with yogurt, dipped in dark chocolate, salsa, in a smoothie with a shortcake, or by itself!