I hope you had an amazing Christmas! Our Christmas activities start Christmas Eve Eve at my church (True North). The morning service we served: I serve with the 3-5 year olds and my husband does the security. We went to the later service and it was soo good! From church, a group of us go out to eat traditionally. After dinner, I cleaned the house and prepped for my next busy day. I am a bit OCD and particular, so I was up until 2 am getting the house clean and everything ready.
Christmas Eve morning I hosted a brunch with my girlfriends from high school. I made an avocado toast bar, pancake bar, fruit, my friend brought a cinnamon roll casserole, and another brought eggs and sausage dish.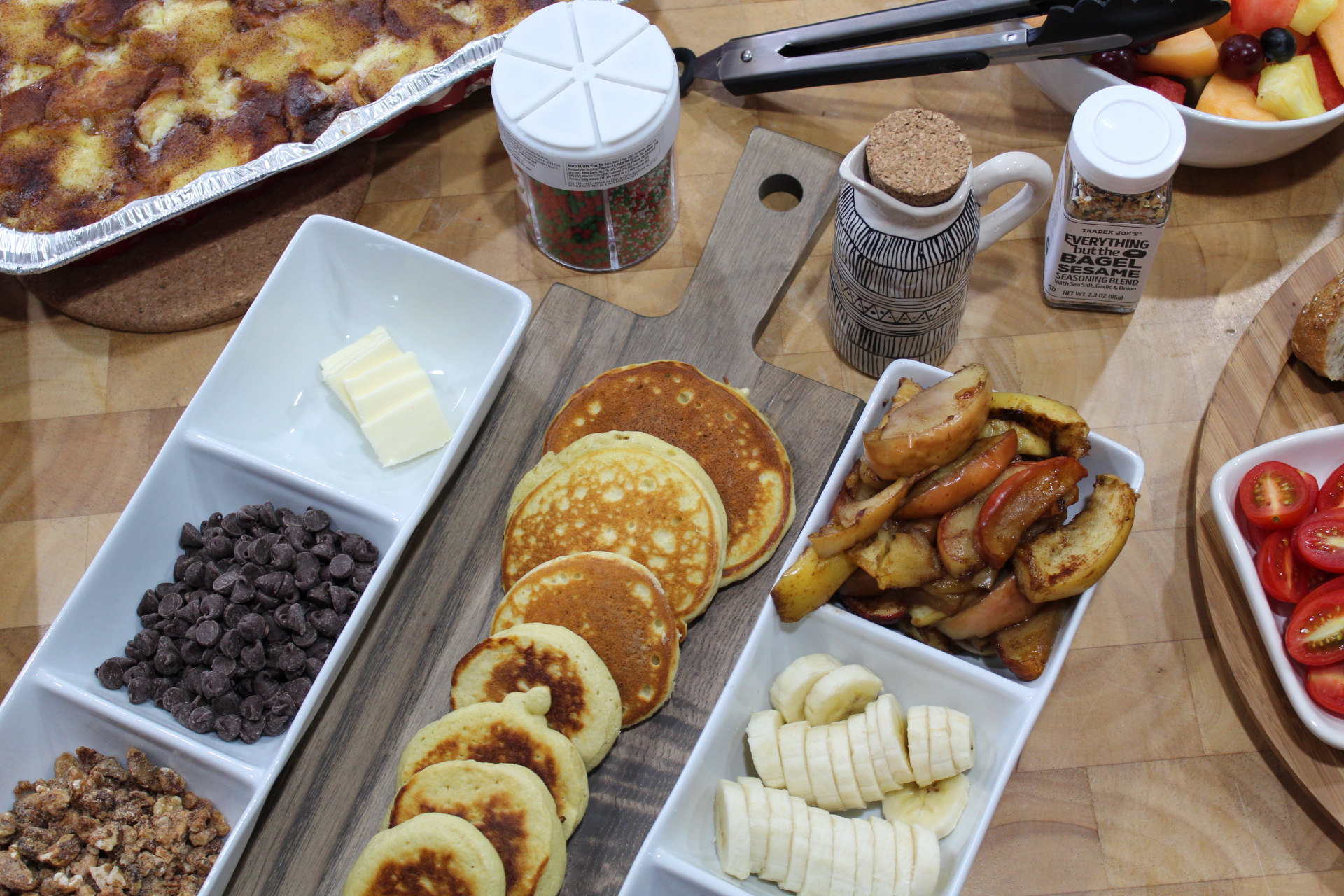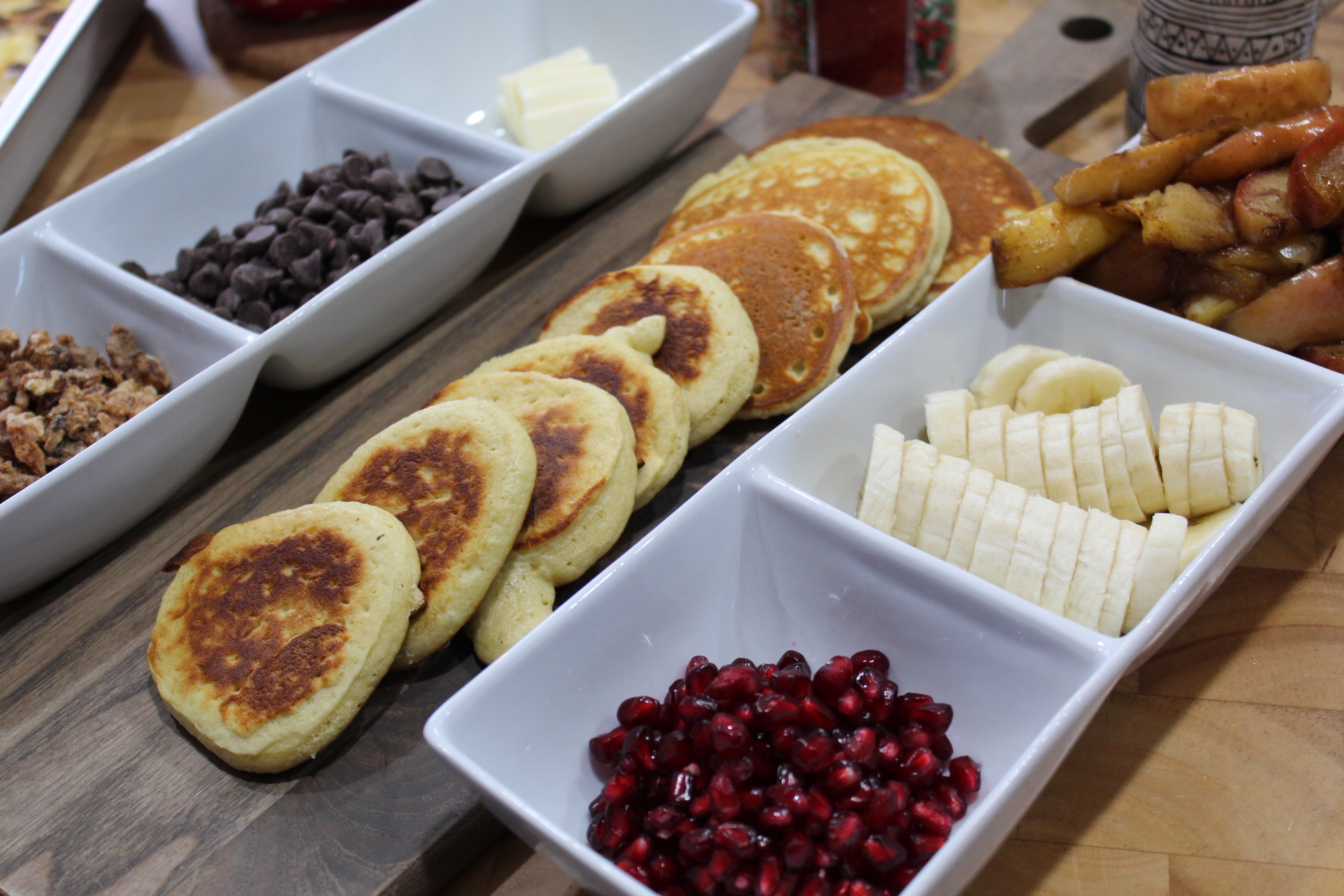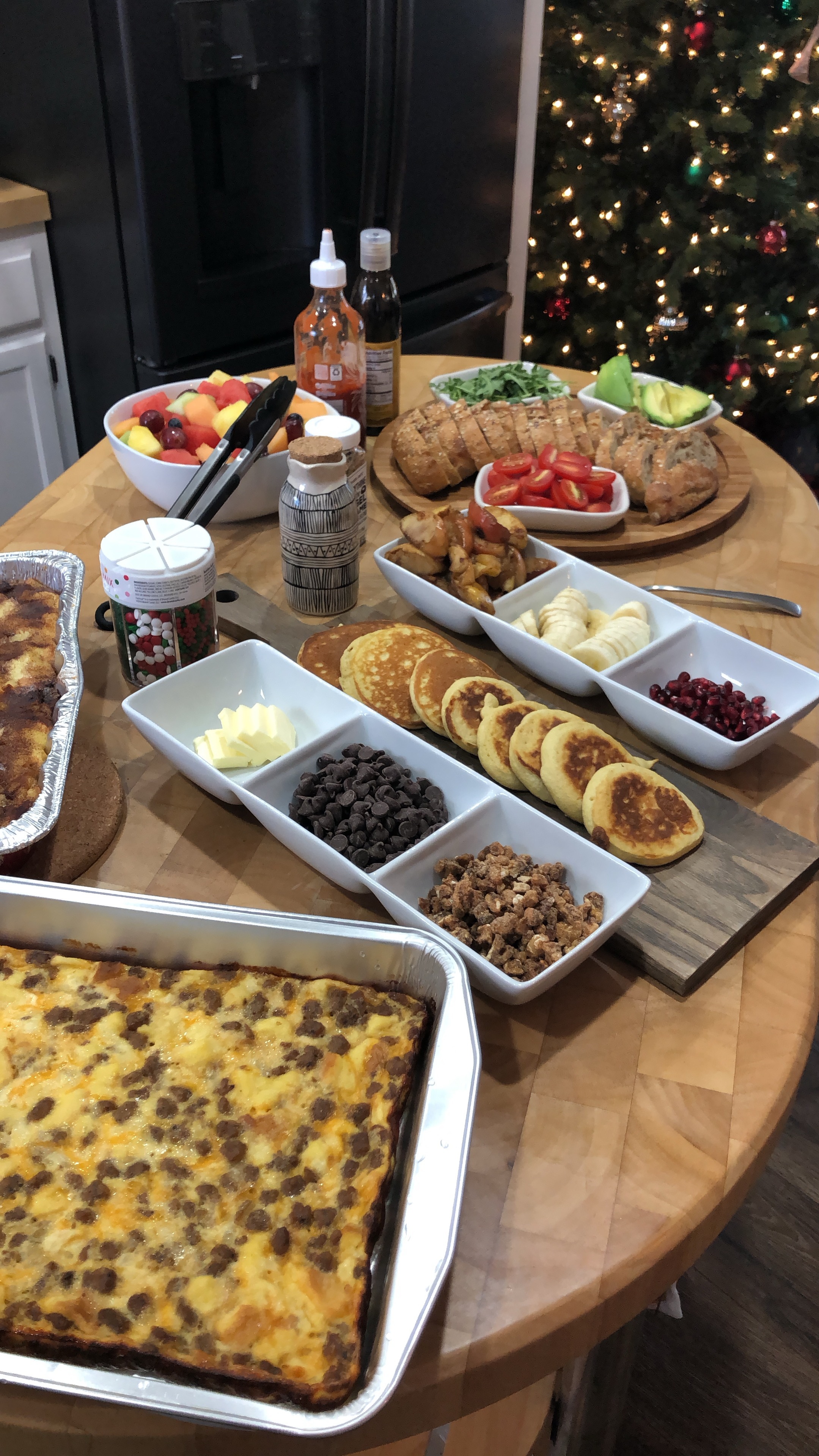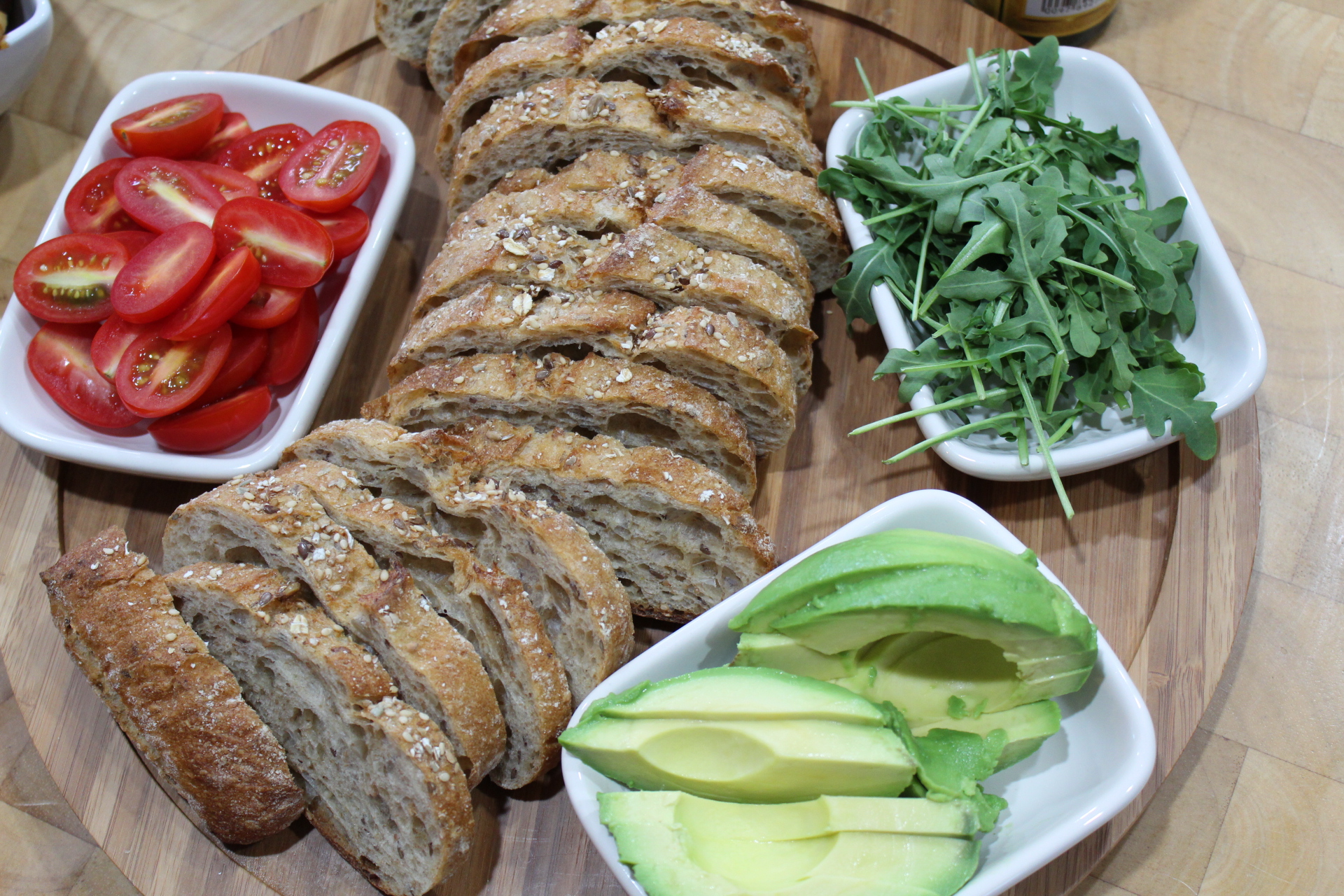 The pancake bar was filled with baked apples, bananas, pomegranate seeds, chocolate chips, butter, candy walnuts, sprinkles, and syrup. The avocado toast bar included: whole grain toast, avocado, tomatoes, greens, Trader Joe's everything but the bagel seasoning, sriracha or balsamic to drizzle.
I served cranberry mimosas for the specialty drink. I rimed the top with citrus and dipped them into color sugar. For the cranberry decor, I put a hole into the cranberries and threaded them through the rosemary sticks. It was champagne and splash of cranberry juice. For extra bubbles, I added a pinch of sugar.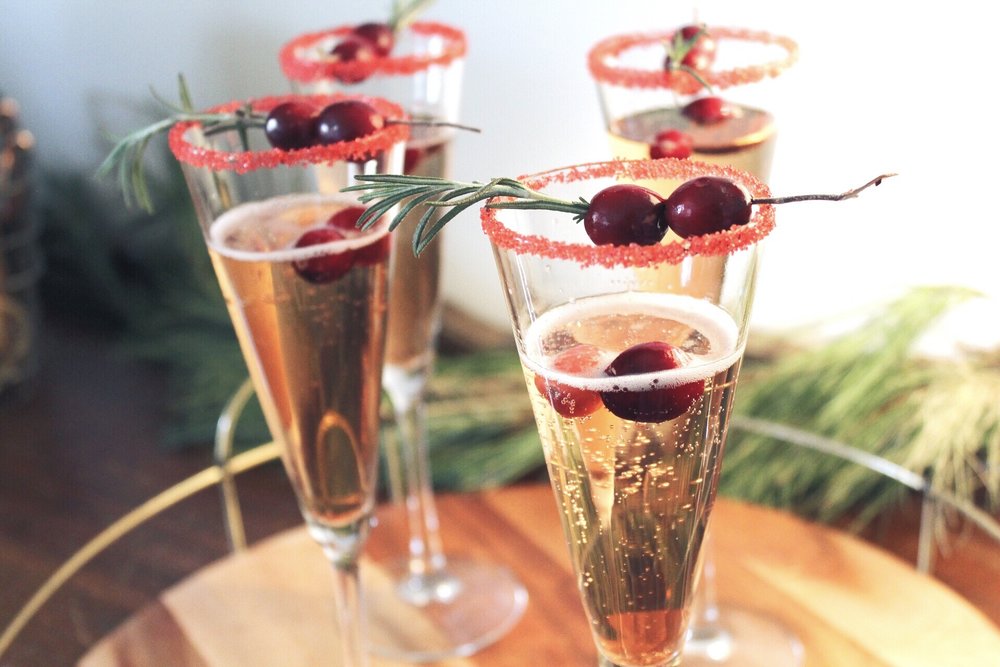 To make brunch exciting, we played a few games:
"Who am I?"— I wrote different Christmas characters (ex: elf, frosty the snowman) on a sticker and placed on their back. To find out who they are, they had to ask yes or no questions.
Saran wrap game —with two rolls of saran wrap, I wrapped gifts within it. You have to rip the saran wrap apart to get to the end, which was a punch of lottery tickets. But, throughout I added little gifts, like: nail polish, socks, candy, lottery ticket, etc.
Drawing game (not really sure if there is a name): One person writes a saying on a piece of paper, passed it to the next person who has to draw the saying. The drawing goes to the next person, who has to guess what the saying is. It keeps going and going— drawling, saying, drawling, saying— until the last person says their saying to see how close it is to the original.
Christmas Eve evening I hosted my parents, in-laws, and my friend and her family. I made a special cranberry moscow mule, a butternut squash soup, my Mediterranean veggie platter , Trader Joe's spinach and kale Greek yogurt dip, and guacamole. My mom brought over cheese and meats and little sandwiches. My mother in law brought over pigs in a blanket and a few other types of apps. My friend brought over desserts.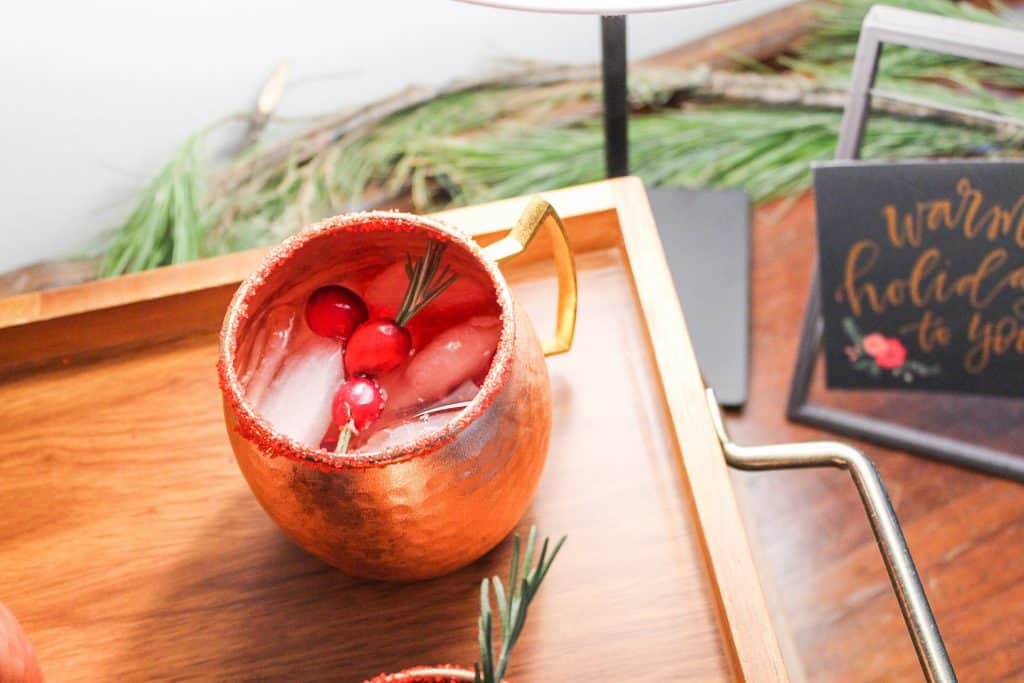 We played similar games as brunch, except the saran wrap game was boxes taped with duck tape within each other. The end gift was a gift card but through the game you could win candy and lottery tickets. If you want to see who is competitive, play this game!!
On Christmas Day, I was wiped out!! We went to my parents, grandparents, and in-laws.
On the day after Christmas, we go to my uncles for my mom's side party.
This year my husband is off, so we are going to spend much needed time together. It is so important to have a healthy marriage. To build a deeper relationship with each other and the Lord. I am going to step away from social media and blogging for the next couple days to enjoy each other and take a look into our 2019.
2018
This was an amazing year:
Jan: We went to St. Lucia for our delayed honeymoon
Feb: We worked on our new home.
March:

I visited a friend in LA, Cali with my other friend. We hiked, went to Warner Bros, ate amazing food, went to Malibu, and so much more!
My husband, his mom, brother, and I visited his aunt in Arizona. We explored Sedona, Phonex, around ASU, and Scottsdale.

April: Moved into our new home, after months of renovating our house. The first week in we celebrated my husband's 30th birthday.
August: I got my new full time job as a corporate registered dietitian.
October: My dad and I spoke at my family's farm market to local dietitians about fall produce.
November:

I started this blog that you are reading! Thanks for visiting!
My niece Magnolia was born!
I ran my first marathon in Philly!
Started Institute of Integrative Nutrition (IIN)

December:

With the help of my family, we hosted a Christmas Festival at the farm.
A few one night trips to Rehoboth Beach and around DC.
2019
I am excited for this year to come. To engage more on this platform to help you all gain a healthier life through food, relationships, activity, and self-love. I want to inspire you and all my clients to live their best life at the healthiest they can be. I am excited to see what more I can learn through the IIN to help my nutrition sessions, you all, and my own life.
My health goal for me is to continue the celery juice in the morning and continue to eat right so my liver can get back to normal levels, my acne can go away, I can get regular menstrual cycles, regular bowel movements, hopefully get pregnant, and heal my scalp psoriasis. I have been reading Liver Rescue by the Medical Medium and only doing the celery juice in the morning. Once the new year hits, I will be doing an elimination diet to figure out why I continue to have acne and psoriasis. I will continue to go to the gym 4 or more days a week in the am and incorporate some work out classes, like bodypump and kickboxing into the mix. Stay tuned to hear more about my healing process!
My spiritual goal is to continue to be active in my church and bible study groups, spend more time in the word with just waking up earlier, and trust in Lord with what he has planned for mine and my family's future.
Have a save and happy New Year!